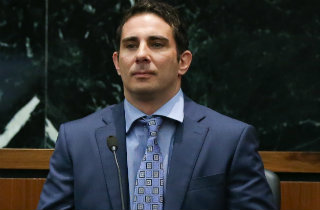 A.J. Daulerio, the editor-in-chief of Gawker at the time of the Hulk Hogan "sex tape" post (which he authored), granted a rare interview this week, appearing on the Longform Podcast, which interviews various nonfiction writers. While the entire episode is fascinating if you have even a passing interest in the ongoing Hogan/Gawker/Peter Thiel saga, one segment in particular stands out. Daulerio admitted that after his co-defendants, Gawker Media and founder Nick Denton, filed bankruptcy, leaving him legally responsible for the entire $115 million compensatory damagers award, he started making plans to go into hiding…but not before  posting the entire Hogan sex tape online.
"What I did think initially was that, well, all is lost…but I do still have a copy of the sex tape," he explained, making the distinction between the full 30 minute video of Hogan with Heather Cole and the 100 second edit with less than 10 seconds of sex that Gawker posted. "And it is completely newsworthy at this point. I was just like, okay. Why don't I do a post on [my website] Ratter that says 'Here's What a $140 Million Sex Tape Looks Like" and then just peace out. Go to Miami, and just like be on the lam."
Daulerio then made it clear that he wasn't joking around: He had started preparing to go on the lam. "This is what I was planning on doing: I was getting phones, like I was basically going to get burner phones, I was going to do this all kind of just covert," Daulerio explained. "And thankfully some people talked me off the ledge and said you're not out of this yet, and Gawker's not out of this, and I didn't want to do anything to jeopardize Gawker more so than I already had at trial. But that was my first instinct."
In addition to talking about how he "had that brief sliver of a revenge fantasy," Daulerio covers a lot of other ground on the podcast. Other topics include the settlement offers he's gotten from Hogan (which would have required a non-disclosure agreement), Peter Thiel's funding of Hogan's legal bills, and his donations to the NAACP in Hogan's name, which his lawyers were not happy about.
[Photo: Pool Photo]
Have a tip we should know? [email protected]