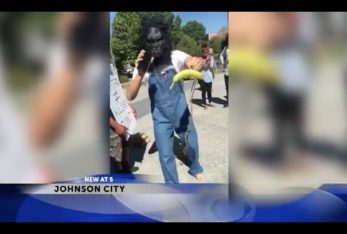 A student at East Tennessee State University was arrested after police say he showed up at a Black Lives Matter rally wearing a gorilla mask and started handing out bananas.
WJHL News 11 reports ETSU Department of Public Safety officers responded to calls of a disturbance at a Black Lives Matter rally that was taking place on the campus on Wednesday afternoon.  Officers arrived and say they observed a man wearing a gorilla mask handing out bananas to the protesters.
Officers arrested the man who was reportedly later identified as Tristan Rettke, a freshman student at ETSU.  He was arrested on charges of civil rights intimidation. He was then taken to Washington County Detention Center for questioning.
WATCH:
Police say Rettke told them he learned several days ago that the rally was going to take place in a designated free speech area on campus, so he went to a store and purchased his props.
ETSU President Dr. Brian Noland told reporters Rettke was a member of a living learning community on campus, but he was not otherwise affiliated with other formals clubs, groups or athletic teams. According to the news report, Dr. Noland called Rettke's actions "incomprehensible and intolerable" and he commended the protesters for "[rising] above hatred."
The ETSU Administration also released a statement about the incident on Facebook:
In addition to the reported criminal charge of civil rights intimidation, university officials say Rettke has been placed on interim suspension from the school.
Tenn. Code Ann. § 39-17-309 prohibits civil rights intimidation and provides, in part:
(b) A person commits the offense of intimidating others from exercising civil rights who:

(2) Injures or threatens to injure or coerces another person with the intent to unlawfully intimidate another because that other exercised any right or privilege secured by the constitution or laws of the United States or the constitution or laws of the state of Tennessee;

…

(c) It is an offense for a person to wear a mask or disguise with the intent to violate subsection (b).
The violation of subsection (b) this statute is considered a Class D felony and punishable by between two and twelve years in state prison.  The violation of subsection (c) is Class A misdemeanor, punishable by a term of less than one year in a county jail.
[image via screengrab]
Have a tip we should know? [email protected]