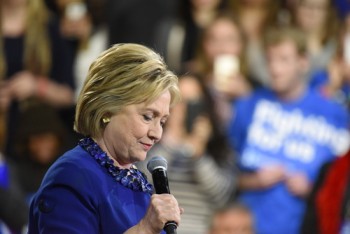 The legal watchdog group Judicial Watch published more than 725 new State Department documents on Monday.  The new materials include previously unreleased work-related emails Hillary Clinton failed to turn over to the State Department.  Additionally, the materials also include never before released emails that appear to show top Clinton aide Huma Abedin giving special treatment and access to top Clinton Foundation donors at the behest of Clinton Foundation executive Doug Band.
The 20 Hillary Clinton newly release work-related emails include an exchange between Clinton and Abedin in which they discuss delaying the Secretary of State's charter jet to fit in a 15 minute meeting with a billionaire businessman and contributor Danny Abraham.  According to The New York Post, Abraham donated between $5 million and $10 million to the Clinton Foundation.
"Danny abraham called this morning. He is in dc today and tomorrow and asked for 15 min with you. Do u want me to try and fit him in tomorrow?" Abedin asked Clinton in an email.
"Will the plane wait if I can't get there before 7-8?" Clinton replied.
"Yes of course," Abedin assured her.
Abraham is again mentioned in an email dated June 15, 2009, when Abdin writes Clinton, "Danny abraham wants to talk to you about israel, ideally before you see lieberman."
This email was sent less that 48 hours before Clinton met with Israel's Foreign Minister Avigdor Lieberman on June 17, 2009.
Abedin was also at the center of a series of emails with Doug Band, who was then a top executive at the Clinton Foundation.  While Clinton may have signed an ethics pledge to avoid mixing State Department and Clinton Foundation business, the emails show her aides appear to have stepped into this area  when necessary.
For example, in one email exchange, Band emails Abedin, trying to arrange a meeting between Crown Prince Salman of Bahrain and Clinton.
"Cp of Bahrain in tomorrow to Friday, Asking to see [Clinton]," Band wrote to Abedin.  He then added, "Good friend of ours," as if to remind Abedin he was an important Clinton Foundation donor.
According to the Clinton Foundation website, the Crown Price established a scholarship fund for the Clinton Global Initiative that had contributed $32 million by 2010.
Abedin replied, telling Band she had failed to set up the meeting through normal State. Dept. channels.
"He asked to see hrc thurs and fri thru normal channels, Abedin wrote to Band just a few hours later.  "I asked and [Hillary] said she doesn't want to commit to anything for thurs or fri until she knows how she will feel. Also she says that she may want to go to ny and doesn't want to be committed to stuff in ny…."
Band then apparently jumped into action and intervened, because less that 48-hours later, Abedin was writing Band another email, this time tell him Clinton has ten minutes to meet with the Crown Prince.
"Offering Bahrain cp 10 tomorrow for meeting woith [sic] hrc, Abedin wrote to Band. "If u see him, let him know. We have reached out thru official channels."
In another Abedin-Band email exchange, Band reaches out to Abedin, instructing her to get Clinton and the State Department to intervene in a problem involving the inability of some members of the UK football (soccer) team Wolverhampton, F.C. to obtain visas.  According to Judicial Watch, "Band was acting at the behest of millionaire Hollywood sports entertainment executive and President of the Wasserman Foundation Casey Wasserman."  The Clinton Foundation website shows Wasserman (through his own Wasserman Foundation) has donated between $5 million to $10 million to the Clinton Foundation.
However, this request seems to make Abedin somewhat uneasy.  After some back and forth, she eventually replies to Band, "I got this now, makes me nervous to get involved but I'll ask."
Band replies back, "Then don't."  Although, it is unclear how this matter was ultimately resolved.
These are but a few of dozens of other examples of what looks like influence peddling on an industrial scale at the Clinton State Department.  Sidney Blumenthal even makes an appearance in some of the new Clinton work-related emails, offering his inside advice on the 2009 uprisings in Iran.  At one point, he suggests Clinton get the Russians involved by offering to remove a U.S. missile defense system set up in Eastern Europe. All of this is damning evidence that flies in the face of the continued Clinton campaign and State Department denials that Clinton or her aides provided certain donors with special access and treatment.
Nonetheless, State Department spokesman Mark Toner went out again today and essentially tried to convince reporters that the new emails really were not evidence of favors for Clinton Foundation donors.
"I mean, I guess I would just once again emphasize that there wasn't a single channel for access to the secretary of state than Secretary of State Clinton," Toner said at the daily State Dept. briefing.
This is an opinion piece. The views expressed in this article are those of just the author.