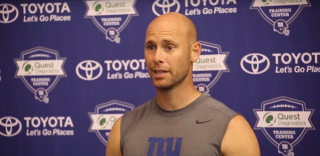 On Wednesday, August 17th, the National Football League officially announced that Josh Brown, a kicker for the New York Giants, was officially suspended 1 game this coming 2016 season after violating the league's personal conduct policy. Digging deeper, we found out that the suspension stemmed from an alleged domestic violence dispute that Brown had with his ex-wife prior to the start of the 2015 season that led to his arrest. Considering the NFL's long-winding tale of domestic violence by its own athletes, the league absolutely dropped the ball here and should be ashamed of its handling of this situation.
According to sources, Brown was arrested in Washington in May 2015 after allegedly grabbing his ex-wife Molly Brown's wrist and arguing about finances. No charges were filed against Brown. However, this is not the first time Brown was allegedly involved in a domestic violence dispute with his ex-wife. According to a New York Daily News report, Molly Brown documents at least 20 incidents of violence when she was married to Josh Brown. One such alleged incident occurred while Molly Brown was 4-6 months pregnant and Josh Brown reportedly tossed a box of mail at her during an argument. She even recalls a moment when Brown was aggressive towards his son.
So here we are with the dispute in question. No charges are filed, but the NFL decides to pursue a 10-month-long investigation into this matter. You would think that the NFL would abide by the terms of its domestic violence policy, which it created following the Ray Rice scandal. According to the NFL's original drafting of the domestic violence policy, a first-time offenders leads to a 6-game suspension whereas a second time offense leads to a ban from the sport. In December 2014, that policy was refined containing more conditions of how the NFL will conduct investigations into matters of domestic violence. Based on its investigation, the NFL could then determine if certain aggravating or mitigating factors will lead to a player receiving a harsher or more lenient punishment.
We've seen the NFL respond differently to certain players who have been involved in domestic violence disputes. Jonathan Dwyer, a former running back, is one example of a player who received a lesser punishment than prescribed in the NFL's domestic violence policy. Dwyer pled guilty to a misdemeanor after being involved in a domestic violence dispute with his wife in 2014. He received 18 months probation. Based on certain mitigating factors, the NFL determined that Dwyer's 3-game suspension sufficed.
A stark contrast to the Dwyer case is Greg Hardy, a defensive end who was found guilty of domestic violence but had his charge later overturned after the prosecution was unable to locate the victim. The NFL later reviewed Hardy's case and determined that the facts of the case, namely the injuries that the victim sustained, amounted to a suspension of 10 games. However, Hardy was able to successfully appeal his case and have his suspension reduced to 4 games after the arbitrator determined that 10 games was too excessive even though Hardy was clearly in violation of the league's domestic violence policy.
In analyzing this situation, it makes you wonder if Josh Brown's 1-game suspension really was a slap on the wrist. On one hand, the league must abide by a zero tolerance policy against all occurrences of domestic violence, whether the act of violence is physical, sexual, emotional, or even financial in nature. On the other hand, the NFL must ensure that it provides proper due process protections to athletes who are subjected to scrutiny under the league's domestic violence policy; this includes conducting a fair investigation and producing evidence that supports a valid claim for suspension.
It is my opinion that based on the 911 call that Molly Brown made, the incident report that was filed on the day of Josh Brown's arrest, and Josh Brown's admission on anger management therapy leads one to believe that Josh Brown should be subject to, at the very least a 3-game suspension. However, I must acknowledge that there is evidence that works in Josh Brown's favor. While he was not charged in May 2015 for his domestic violence dispute, it's a factor worth bearing in mind. Additionally, Molly Brown recalls 20 instances of alleged domestic violence, including while she was pregnant. However, this allegations have not been proved because she never called law enforcement to report those alleged acts of violence. But of course, the NFL's primary reason for handing Josh Brown a 1-game suspension is that Molly Brown was allegedly not cooperative during the NFL's investigation.
This lenient suspension and new addition to the tale of the NFL's fight against domestic violence makes one wonder what can be done to rectify this situation. There are several solutions to improving the league's domestic violence policy. For one thing, the NFL should do a better job in its interviewing process with wives who are subjected to acts of domestic violence by their spouses. Elizabeth Pugliese, a Maryland-based attorney who advocates for victims of domestic violence, believes this is an imperative approach to helping the victim speak freely about acts of violence she is subjected to.
"Interviewing the parties separately and having the interviewer trained in DV will be a substantial benefit to the victim. There have been articles about how wives are pressured not to talk because it will cost their husbands their jobs, which a lot of abuse victims are financially dependent on their spouses. I imagine it's worse for football wives who move from city to city so don't have a support network other than other football wives or able to stay in one job for long enough to build up enough finances. If there are kids involved, that complicates matter more.   He has all the money and can threaten to take the kids if she leaves him," Pugliese said.
Another potential solution to the problem is having the NFL team up with local reputable domestic violence clinics in the cities where it has members clubs. These organizations have the proper staff in place to afford protections to victims. More importantly, these clinics know more about domestic violence than the NFL because it's been defending victims of domestic violence for years. It would be in the best interest of the NFL to form alliances with these organizations and seeking their services during the NFL's investigation of a player who is caught up in a domestic violence dispute.
The NFL should also refine its fact-gathering process when it investigates players in violation of the domestic violence policy. "I don't think the investigation should be predicated on the wife cooperating," says Pugliese. "Prosecutors don't always require cooperation to bring charges. If the NFL can develop evidence otherwise, like getting the police report, the cooperation should be only one factor, not the deciding one in giving little to no punishment. Brown got less than Ray Rice got which started the whole outcry to begin with."
We should remember that the NFL's domestic violence policy is about punishment and rehabilitation. Hakeem Onafowokan, an attorney based in Minnesota, believes the policy is living up to its standard with rehabilitation.
"On its face, the rehabilitation portion of the policy seems to be working. Players, staff, and families appear to be getting the assistance they need, whether it be counseling, social services, or services needed to help those affected by DV. I think if the rehabilitation portion of the policy wasn't working, we would have heard how bad it was by now. The punishment portion of the policy has definitely drawn more attention as it has provided more questions than answers post-Ray Rice," he said.
We can't kid ourselves and think the league's domestic violence policy perfectly addresses everything. It will (and should) always be subject to scrutiny and improvement. If the league wants to cement its fight against domestic violence, it must be cognizant of the changes that must occur and fight vigorously to combat it. Perhaps the Josh Brown case is one great case study among others to make the changes necessary.
Tony Iliakostas is a sports law contributor for LawNewz.  He is the founder and host of his own sports law video blog called "Law and Batting Order."  You can follow Law and Batting Order on Facebook and Twitter, and you can follow Tony on Twitter.
[image via NJ.com]
This is an opinion piece. The views expressed in this article are those of just the author.