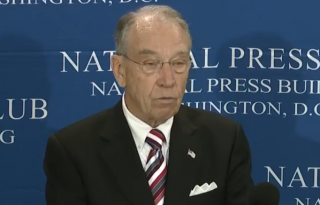 Senate Judiciary Chairman Senator Chuck Grassley sent Hillary Clinton a letter this week asking her to disclose whether she was hacked by 'Guccifer,' the famed Romanian hacker who first exposed that Clinton used a private email server. The letter makes reference to a recent Meet the Press interview in which Clinton stated she would be happy to answer 'any questions that anybody might have.'
"I hope this means you are reconsidering your refusal to answer the questions I asked you, through your attorney… I also hope it means you will substantively respond to this letter as well," Grassley wrote in the letter. Grassley also wants to know if she has been contacted by the Department of Justice regarding the hacker.
"Guccifer"was extradited to the United States in March.  Marcel Lehel Lazar (that's his real name) was believed to have posted emails that were sent to then-Secretary of State Clinton on the internet, including correspondence from close Clinton advisor Sidney Blumenthal. Lazar was brought to the United States, just as reports indicate that the FBI investigation into Clinton's email server is in in full swing.  A recent Fox News report indicated that there could be a connection.
The Senate letter states:
In an interview, Mr. Lazar purportedly claimed he "had memos Hillary Clinton got as a State Secretary, with CIA briefings [that] were being read by her [and] two other people from the U.S. Government. I used to read her memos for six-seven hours and then I'd get up and do the gardening in the yard."
Sen. Grassley contends they need to know the information to "assess the relevance of Mr. Lazar's activities to the ongoing inquiry into matters relating to your use of non-governmental email and server for State Department business." The State Department says they've found dozens of classified and top secret emails on her private server. Clinton says the emails were deemed classified after they were sent.
Have a tip we should know? [email protected]
Rachel Stockman - President / On Air Host