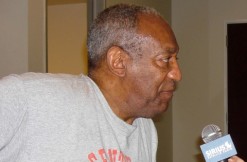 A three-judge panel is assessing whether they should reseal Bill Cosby's infamous 2005 civil deposition in a sexual assault lawsuit. The judges, from the 3rd U.S. Circuit of Appeals, haven't made a decision yet, but they seemed skeptical that resealing it would do any good, comparing it to toothpaste that's been squeezed out of the tube.
"You're asking us to put it back, and we just can't do it," Circuit Judge Thomas L. Ambro said in court Wednesday. He also doubted whether that would keep those documents from being used in several civil cases and one criminal case that Cosby, 78, has been embroiled in. The comedian faces one sexual assault charge in Pennsylvania, and several lawsuits nationwide, including a defamation claim by supermodel Janice Dickinson.
Cosby participated in the deposition in 2005, when he was being sued by former Temple University employee, Andrea Constand, for sexual assault. In it, he admitted to having extramartial affairs and to supplying quaaludes to women. It became public in 2015, when a federal judge unsealed it upon request by the Associated Press. He cited the comedian's assumed role as a "public moralist." That led to the criminal case in Pennsylvania.
So this is what the three-judge panel is pondering now: Do entertainers who talk about issues become public figures?  Gayle C. Sproul, an attorney for the AP, said they do in court. Arguing to keep the deposition open, she said Cosby made money as a public moralist through books, TV shows, and the like.
The judges didn't give of a timeline for their ruling.
[h/t Associated Press]
[image via Shutterstock]
–
Follow Alberto Luperon on Twitter (@Alberto Luperon)
Have a tip we should know? [email protected]