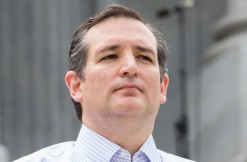 We're going to talk about that one time a Republican presidential candidate defended a state ban on sex toys.
Senator Ted Cruz served as a solicitor general in Texas from 2003 to 2008. It was a good run, where he racked up serious conservative cred. Supporting gun rights, making sure bad guys stayed in prison, defending religious references in the Pledge of Allegiance. He appeared in courts up to and including the U.S. Supreme Court. Not a bad resume for a would-be president of the United States.
Then he defended a state ban on sex toys, Mother Jones reports. In 2004, sex toy companies and retail distributors challenged the law, which prohibited the sale and promotion on such sexy-time items as dildos, and "artificial vaginas." The plaintiffs cited the 14th Amendment, and the right to privacy. They said sex toys were a regular part of many Texans' romantic lives, and a helpful tool for couples who couldn't have intercourse either because of physical disability or STDs.
They brought their case to a federal judge, who shot them down, but they kept fighting. Guess who represented Texas for the appeal in 2007?
Cruz and his legal team said the Texas government was allowed to prohibit the sale of sex toys. The reasoning? Texas had an interest in protecting "public morals," maintaining "police-power interest," and in "discouraging prurient interests in sexual gratification, combating the commercial sale of sex, and protecting minors." Cruz's brief also compared sex toy use to hiring a prostitute. We're dead serious.
The brief claimed there "is no substantive-due-process right to stimulate one's genitals for non-medical purpose unrelated to procreation or outside of an interpersonal relationship." Ladies and Gentlemen, Cruz sounded like he was trying to say masturbation isn't protected by the Constitution.
To be clear, though, people were okay to use sex toys for "noncommercial speech," Cruz's brief said, but they couldn't use it to make money.
Fortunately for fans for vibrators, Texas lost in a 2-1 decision. The judges cited Lawrence v. Texas, a landmark privacy rights case, saying people had the right to be free from the government intruding on private, consensual sex.
"An individual who wants to legally use a safe sexual device during private intimate moments alone or with another is unable to legally purchase a device in Texas, which heavily burdens a constitutional right," the 2008 ruling said.
They shot down Cruz's argument that the government could regulate "sexual gratification unrelated to procreation." They also said sex toys had nothing to do with prostitution (because, duh).
Cruz and then-Texas Attorney General Greg Abbott (now governor) actually fought this ruling with several briefs and a threat to take the case to the Supreme Court. The state dropped the case after they failed to get a hearing from the full court of appeal.
And that's the story of how a viable presidential candidate tried to take down sex toys. Nowadays, Texans are free to buy "artificial vaginas" from stores like Forbidden Fruit in Austin, or Adam & Eve in Houston. Have a fun night, everybody!
[h/t Mother Jones]
[image via Shutterstock]
–
Follow Alberto Luperon on Twitter (@Alberto Luperon)
Have a tip we should know? [email protected]