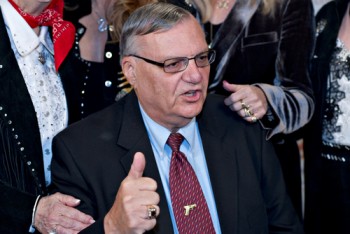 Justice Department prosecutors will reportedly file criminal contempt charges against Maricopa County Sheriff Joe Arpaio for violating a federal judge's orders in a racial profiling lawsuit.
U.S. District Court Judge G. Murray Snow previously recommended criminal contempt proceedings should go forward against Sheriff Arpaio, but ultimately left the decision up to federal prosecutors. The first step in those proceedings began on Tuesday morning at a hearing before U.S. District Court Judge Susan Bolton when prosecutors announced plans to file charges, according to report by AZCentral.com.
Before Arpaio can be formally charged in the case, Judge Bolton ordered the federal prosecutors to draft a show cause order for her signature by Wednesday.  The signed order will then serve as the official charging document in the case.
The criminal contempt charge stems from long running lawsuit filed against Arpaio's office that accused the department of engaging in racial profiling.  In 2013, a federal judge found that Arpaio violated a court order by continuing to conduct immigration patrols.  Arpaio has admitted to violating the order but has always insisted he did not do so intentionally.
Arpaio's attorney signaled that he plans to request a jury trial on the matter and the court set an initial trial date for December 6.  Given Arpaio's age (he is 84), Judge Bolton reportedly capped any potential jail time that Arpaio might serve on the contempt charge at six months in jail.
Justice Department attorney John Keller also told reporters on Tuesday that the feds will not bring obstruction of justice charges against Arpaio for allegedly concealing evidence at this time.  However, Keller said the feds will continue to investigate those matters and make a decision as to how to proceed at a later date.  It is possible that the statute of limitations may have already expired on those claims.
Have a tip we should know? [email protected]