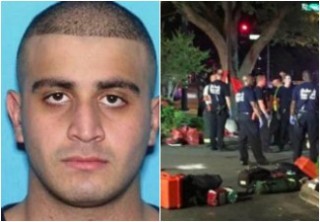 The FBI released transcripts of at least one of the conversations that reportedly happened between Orlando mass murderer Omar Mateen and police dispatch when he opened fire inside a gay night club. A partial transcript is below — you can see much of what Mateen said was [omitted]. In one of the transcripts, the shooter confesses "I am in Orlando, and I did the shootings." He also said: "Praise be to God, and prayers as well peace be upon the prophet in God."
FBI Assistant Special Agent in Charge Ronald Hopper said when Mateen called into dispatch he did so in a "calm and deliberate" manner.  The killer stated he had an explosive device but none was found, Hopper added. He also added that they are not releasing the audio of the calls from the victims.
Mateen was killed by police during a shoot out. Reportedly, in one of the calls, he pledged his allegiance to ISIS. However, the transcript below shows that the phrase looks to be omitted. U.S. Attorney General Loretta Lynch said the release of transcripts will be limited so as not to re-victimize those people who went through this horror.
"He talked about his pledges of allegiance to a terrorist group. He talked about his motivations for why he was claiming at that time he was committing this horrific act. He talked about American policy in some ways," Lynch said, according to CNN. "The reason why we're going to limit these transcripts is to avoid re-victimizing those people that went through this horror. But it will contain the substance of his conversations," she said.
Here is the partial transcript via WSBTV:
JUST IN: Authorities release partial transcript of the #Orlando shooter's 911 call (2:35 a.m.) pic.twitter.com/VbhBtTsDs4 — via @MikeDelMoro

— WSB-TV (@wsbtv) June 20, 2016
LawNewz.com will post more of the transcripts here as we get them. 
Have a tip we should know? [email protected]
Rachel Stockman - President / On Air Host