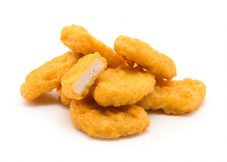 When she means no, she means no.  A thirteen-year old student was allegedly approached by a classmate at a McDonald's in Harlem who asked for one of her chicken nuggets.  When the teen declined to share her meal, her 12-year old classmate allegedly followed her to the 103rd St. No. 6 train subway station and approached her with a gun, once again demanding one of her chicken nuggets.
The fearless teen simply brushed away the gun, told her would-be attacker to leave her alone, and boarded her train.  She reported that she then witnessed her classmate show the gun to a friend also aboard the train.
After detailing the incident to school officials the following day, the suspect was arrested for attempted robbery.  The weapon was not located by the police, but the student was taken into custody and the case was ultimately referred to Family Court for further action.
[image via shutterstock]
Have a tip we should know? [email protected]