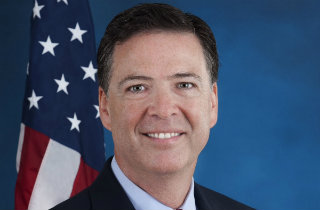 The Office of the Inspector General for the U.S. Department of Justice announced on Thursday that they would be probing the FBI and the DOJ over their handling of the Clinton email investigation. Particularly, the OIG's press release noted that they would look into FBI Director James Comey who has come under fire for his unprecedented move to hold a press conference, and to send a letter to Congress that he had reopened the Clinton investigation just days before the election.  So how does this process work? And what happens if they find violations? Remember, Comey was appointed by Obama in 2013 to a 10 year term, and can only be fired by the President for adequate cause or through an impeachment by Congress. 
The Office of Inspector General is a completely independent arm of the Justice Department that generally investigates waste, fraud, abuse, and misconduct in U.S. Department of Justice (DOJ) programs and by employees. The results of OIG investigations may be used for disciplinary measures taken by the FBI or DOJ, or could provide the basis for criminal and civil action taken by the DOJ. However, the OIG doesn't have the power to press charges themselves. The findings will likely be given to President Trump. It is unlikely the report will be finalized before Obama leaves office.  Trump would therefore make a decision on whether or not the findings provide any basis to fire Comey or ask him to resign. The findings will also likely be viewed by Congress. According to Congressional Research Service, since 1972, only one FBI Director has been removed by the President (he refused to resign).
"Generally OIG investigates criminal allegations but that does not seem to be the case here — there don't seem to be any criminal allegations here.  The investigation was probably turned over to OIG because the OPR (Office of Professional Responsibility) agents that would investigate the matter would be FBI agents who ultimately work for Comey.  It would be very tough to investigate your boss and accuse him of misconduct.  As one can imagine, that is not the best career move," Bill Thomas, a former federal prosecutor told LawNewz.com. 
The OIG investigation will also probe whether the DOJ or the FBI improperly leaked information to the Clinton campaign and to the press, and whether the FBI Deputy Director should have been recused from participating in certain investigations because of a conflict of interest. So what can happen if investigators find violations?
"Violations of internal policy can have a variety of consequences ranging from a reprimand up to termination.  It just depends on the type of violation and the circumstances.  You can expect that they will interview all of the folks that have some knowledge about the handling of the e-mail investigation and they will interview Comey himself.  After all of that is done, they will make a determination of whether policy violations did indeed take place," Thomas explained.
[image via FBI]
Have a tip we should know? [email protected]
Rachel Stockman - President / On Air Host