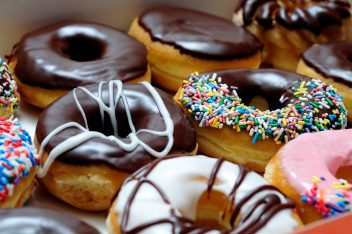 The Joplin, MO school district has reportedly agreed to the demands of a legal group and suspended a bible study after complaints that free donuts were being used to induce children to attend the meetings.
The American Humanist Association's legal team drafted a nine-page letter to the school district last month that made several allegations, including that the school was "enticing students to Bible studies with donuts" and such conduct "is deceitful and inappropriate during school hours."
The letter further stated, "Teachers should treat all of their students equally rather than giving out special treats to students who participate in Christian activities."
The AHA issued a news release on Monday, essentially claiming victory.  The group cited a local newspaper report that confirmed the school had indeed suspended the activity.
"Our staff was unaware of the policy update and its implication for this activity.  As a result, we have suspended the Bible study as it is currently organized," the district announced in a statement.
However, the district appeared to leave open the possibility of allowing a revamped bible study program to take place at the school.
"Community groups that wish to host activities such as this, or other types of events or activities, at our schools may do so by complying with our facilities use policy," the district told reporters.
District officials also sought to stress that the study was "a student-initiated activity held before class, not during instructional time, and it is entirely voluntary for students to attend."
David Niose, the legal director of the AHA released a statement obtained by LawNewz.com in response to the district's decision:
We are pleased that the program has stopped, but disappointed that the district, perhaps in an attempt to save face, has falsely described the program as lawful. In fact, the program was very much adult-led and clearly unconstitutional. Nevertheless, the important outcome is that the school will no longer be promoting Christianity and luring children to Christian meetings with promises of special treats.
According to the ACLU, "Student participation in before- or after-school events, such as 'see you at the pole,' is permissible. School officials, acting in an official capacity, may neither discourage nor encourage participation in such an event."
This is not the AHA's first fight with the Joplin school district.  In 2015, the group filed a lawsuit alleging the school district sent students on an what they call an "unconstitutional" field trip to the Victory Ministry and Sports Complex.
That lawsuit is still pending in federal court.
[image via screengrab]
Have a tip we should know? [email protected]