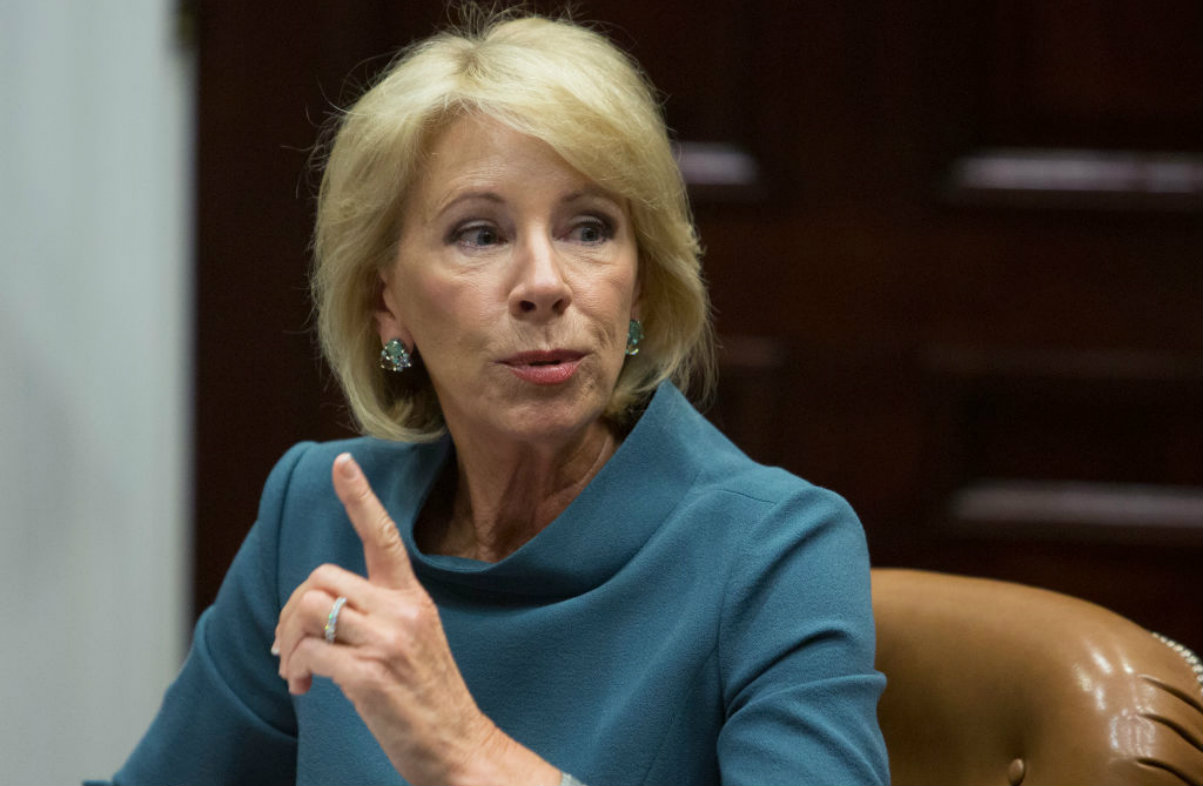 Well, we were due for some news from the gilded halls of the DeVos Department of Education. Betsy DeVos, assisted by her first lieutenant of wealth-over-wisdom, Julian Schmoke, has basically disbanded the team that was supposed to be investigating fraud. Or to put it more simply:
1.The Education Department investigates abuses by for-profit colleges
2.Betsy DeVos takes over and hires executives from for-profit colleges
3.Investigations into for-profit colleges get shut down https://t.co/zC8fACAgUI

— Citizens for Ethics (@CREWcrew) May 13, 2018
To be fair, we never actually thought DeVos was going to enforce the waste, fraud, and abuse rules against pseudo-college money machines – but we did think she might at least pretend. Last August, DeVos appointed Schmoke chief enforcement officer for higher education. That was weird, because Schmoke's department was supposed to protect Americans from being swindled by fraudsters posing as colleges and universities. Interesting coincidence, Schmoke's pre-government job was serving as dean of a for-profit college.
Schmoke had been an associate dean at DeVry, a school that paid over $100 million to settle fraud cases with Federal Trade Commission, the Department of Education, and New York State. Although DeVry itself was accused of being a pretty serious offender, it was, by no means, the only for-profit college accused of swindling students with deceptive practices. In fact, the problem had become so significant by 2016 that the Obama administration created the DOE's enforcement unit specifically to investigate this kind of misconduct.
During the disastrous confirmation hearing that clarified DeVos' utter incompetence to lead so much as a preschool story hour, Senator Elizabeth Warren bluntly asked DeVos whether she'd enforce existing federal laws prohibiting fraud. Betsy DeVos refused to promise that she would.
Now, DeVos and Schmoke have eliminated even the appearance of caring whether American students take on thousands in debt at the behest of predatory diploma mills. The investigative team has been reduced to just three employees – and those three have been reassigned to handling non-fraud matters. Perhaps the change has something to do with the fact that DeVos is surrounded by staff who came directly from the world her department is charged with policing, such as Robert S. Eitel, and Carlos G. Muniz.
While DeVos' devotion, in my opinion, to helping private companies line their pockets with federal student loan funds isn't surprising, her decision to disband the DOE's fraud team should not be chalked up to small-government-business-as-usual. It's an outright middle-finger to students and parents making life-altering decisions about higher education.
Sen. Warren slammed DeVos' move, telling the New York Times, "Secretary DeVos has filled the department with for-profit college hacks who only care about making sham schools rich and shutting down investigations into fraud."
And  Congresswoman Pramila Jayapal (D-WA) called it out for the corruption it is:
Betsy de Vos and her corruption racket. https://t.co/t7UUNzN3ky

— Rep. Pramila Jayapal (@RepJayapal) May 13, 2018
The thing about the school-fraud issue is that it really isn't truly political or ideological. Even small-government advocates and rabid free-market proponents usually draw the line at fraud. With student debt reaching shocking heights and our country still recovering from the mortgage-lending crisis, Americans are disgusted at the idea of teenagers saddling themselves with loans even for the best of educations; a private company posing as a school and scamming unsuspecting young people seems like something we can unite against. After all, what is the possible counter argument? Is it some twisted trickle-down theory in which we wish to help criminal enterprises thrive in hopes their success will somehow help our economy?
This one really seems like a no-brainer. When multiple "schools" have paid out hundreds of millions of dollars in fines and fees to compensate for wide-scale fraud, it evidences an ongoing problem. If you're in charge of the Department of Education, that problem is your job. Refusing to work on that problem equals refusing to do your job. Refusing to do your job equals losing your job.
Analytic skills brought to you by twelve years of public school education, and degrees from a couple of non-profit institutions.
This is an opinion piece. The views expressed in this article are those of just the author.
Elura Nanos - CEO, Lawyer Up; Columnist & Host, Law & Crime