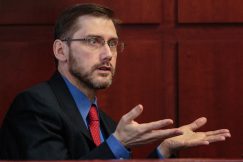 In a somewhat surprising move, Jeffrey Willis took the stand in his own defense. He is accused of murdering Rebekah Bletsch in 2014. Willis first came under suspicion in 2016, when investigators were looking into the alleged kidnapping of a teenage girl who claimed Willis abducted her before she escaped by diving out of his van while he was driving. Authorities found a gun in the van that matched shell casings found at the scene of Bletsch's death.
When asked if he killed Rebekah Bletsch, Willis said, "I did not."

Early on, Willis disputed other accounts that were presented in the case. He admitted to owning the gun, but said he bought it from Michelle Schontala and let his cousin Kevin Bluhm borrow it. The defense has been putting forward the theory that Bluhm was the one who killed Bletsch. Willis said he first bought the gun because his wife was afraid of being home alone. He said Bluhm returned the gun after Bletsch's death. He also said that gloves found in the van that had Bletsch's DNA on them belonged to Bluhm.

Investigators found two pairs of used panties in Willis' van that belonged to Schontala. She claimed that he asked her dozens of times for a pair but she said no. She had also said that she kept her items in her closet, and that there was evidence that Willis had been near her home while she was away. Willis had a different story. He said that she gave him the underwear.
Willis' attorney also addressed the alleged kidnapping of the teen. Willis didn't deny that she was in his van, or that she jumped out. He did, however, have a different version of events than she did when she testified earlier in the trial. While she claimed that she asked to use Willis' phone, and he said only if she got in the van, Willis told the jury that he asked if she wanted a ride, she said "okay," and he didn't offer the phone until later on.
The teen also claimed that Willis pulled a gun or a toy gun on her, but he denied doing anything of the sort. He said he pulled out his phone after he had been driving, and at that point, she opened the door and jumped out of the van, while it was moving. Willis said he didn't know why she did this, but said she looked jittery, as if she was on meth. During her testimony, the girl admitted to having had alcohol and marijuana while at a party earlier on, but said nothing about hard drugs.
In addition to Bletsch's death, the investigation of the alleged kidnapping also connected Willis to the disappearance and death of Jessica Heeringa in 2013. Willis admitted to being at the gas station where Heeringa worked on the day she disappeared, but denied having anything to do with her death.
Investigators looking into Willis' computer have found files including videos depicting rape and murder. When confronted with this on the stand, Willis said that such videos were his "outlet," when his sex life with his wife had gone downhill.
On cross-examination, the prosecution mentioned an emergency lock box that was in Willis' van. When asked why a box labeled "emergency" contained Viagra, Willis claimed it was for a friend.
Stay with LawNewz.com and the LawNewz Network for continuing coverage of the trial.
[photo: Joel Bissell | MLive]
Have a tip we should know? [email protected]