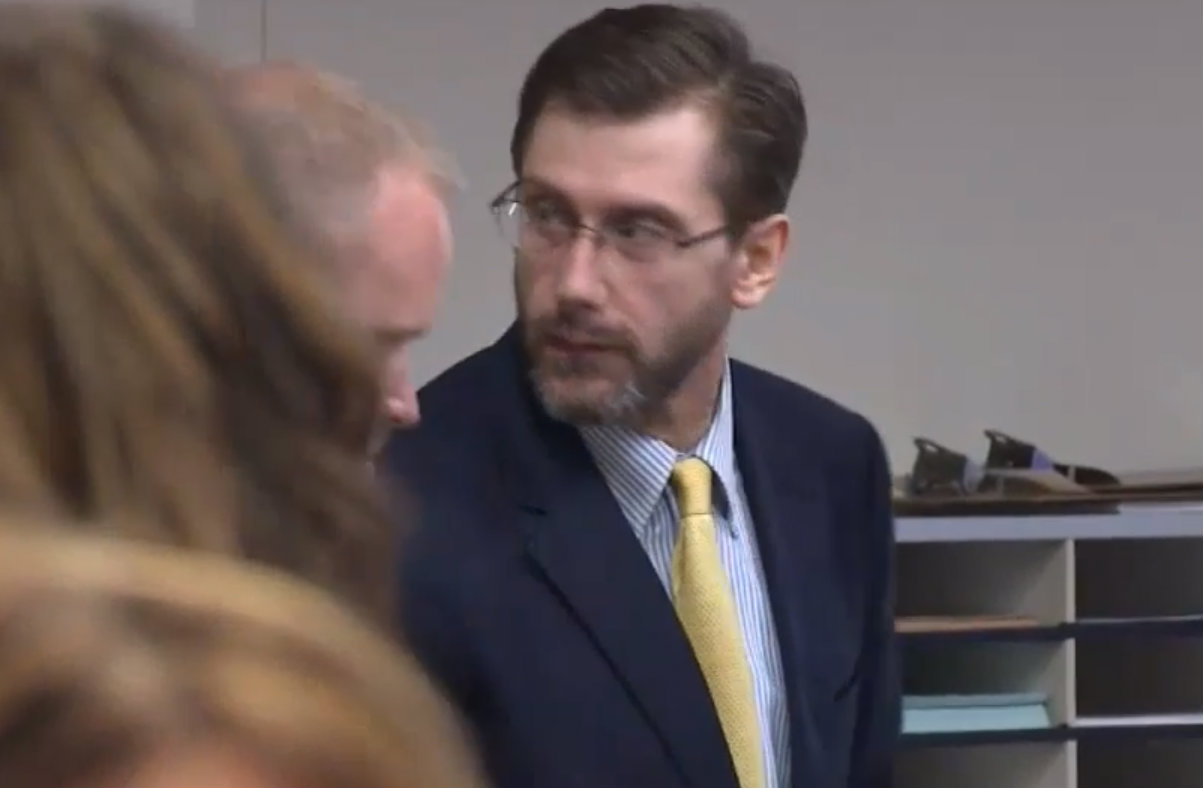 Jeffrey Willis was found guilty in the 2013 kidnapping and first-degree murder of Jessica Heeringa. Sentencing is set for June 12. No matter how the verdict went, however, the defendant wouldn't go free. He was convicted in November for killing Michigan woman Rebekah Bletsch. Prosecutors convinced jurors he shot and killed her in June 2014.
The body of Heeringa, who went missing on April 26, 2013 from her job at a gas station, was never found. Bletsch was discovered dead on the side of the road in 2014. Willis wasn't implicated in either murder until 2016, when a teen girl told cops she was abducted by a man in a van, but she escaped by jumping out of the vehicle. Willis ended up being the suspect in this case. During the investigation, cops said they found a gun in his van linking him to Bletsch's murder. Files on his computer held files related to her, as well as to Heeringa. Willis's cousin Kevin Bluhm pleaded guilty to lying to cops about the investigation, and also pleaded no contest in helping Willis get rid of Heeringa's body.
Willis, who was sentenced to life in prison without parole for the Bletsch murder, denied killing either woman, and said he only gave the teen girl a ride before she abruptly jumped out (he claimed she seemed jittery, as if on meth). In his sentencing hearing in December, he memorably asked to leave the courtroom for the decision, and blew a kiss at the Bletsch's family after they called him a coward. Just as memorably, on the way to prison, the Muskegon County Sheriff forced him to listen five times over to a CD of victim impact statements by the family.
In closing arguments on Wednesday, Muskegon County Prosecutor D.J. Hilson acknowledged that Heeringa's DNA profile wasn't found in Willis' basement, but he said plenty of other evidence supported conviction.
"I hope you can see that a criminal case can be more than just DNA results," he said.
That evidence: Things like the files related to Heeringa, which were found on Willis's computer. Hilson cited testimony by Michigan State Police computer crimes expert Gerald McCarthy, who said Willis's computer had 15,000 videos of high school girls in swimming pools. Mccarthy said Willis had a password starting in 2015: "j427l13h13." He said people tend to have passwords that mean something to them, such as kid's birthdays, anniversary dates, and so on. Hilson pointed out that in 2010, Willis started using his daughter's name and birthday. In 2015, it was changed to "j427l13h13."
"4/27/13," Hilson said. "The day Jessica Heeringa died. The prosecutor pointed out that on April 26 of that year, everyone knew Heeringa was missing, but only one person–her murderer–would have known when she died.
Hilson highlighted expert testimony that DNA was fragile, and bleach was routinely used to clean DNA labs to prevent contamination. Bleach, Hilson said, was found in Willis's basement, and three years was plenty of time for the defendant to clean up the evidence. Hilson described the basement as a "torture safe house" used to live out the defendant's fantasies. It was there that Willis spent hours with Heeringa.
In his closing argument, defense lawyer Frederick D. Johnson Jr. said it's unknown what happened to Heeringa. She could be anywhere.
Heeringa's blood was found at the gas station, but it's unclear when that blood was spilled, Johnson said. For example, the victim was a heroin user, and a reported cut from two days before her disappearance may have been from a needle. She may have spilled the blood while hitting herself on the dumpster while taking out the trash for work.
"How long has that blood been there?" Johnson said. "How do you know?"
He admitted in court that his client has "baggage." After all, jurors heard about the swim videos, other disturbing videos, the voyeurism targeting a neighbor's children, as well as the conviction for killing Rebekah Bletsch.
"The truth is, my biggest hurdle is, 'How to I bring it back from all that?'" Johnson told the jury. "How do I talk to you after you've heard about all of that?"
The attorney framed it like this: Would jurors even think about convicting Willis for Heeringa's murder and kidnapping if the defendant were someone without all that baggage.
Is Willis scary?
"Yes," Johnson said. "Is he creepy? Yes. Are you going to invite him to dinner? Never. Are you appalled by what he does and what he likes? What he's admitted he likes? Yes. But that isn't proof that he was there with Ms. Heeringa that night. That isn't proof of Ms. Heeringa's death."
This argument didn't convince jurors.
Willis has yet to stand trial for the alleged kidnapping of the teen girl.
[Screengrab via Law&Crime Network]
Have a tip we should know? [email protected]