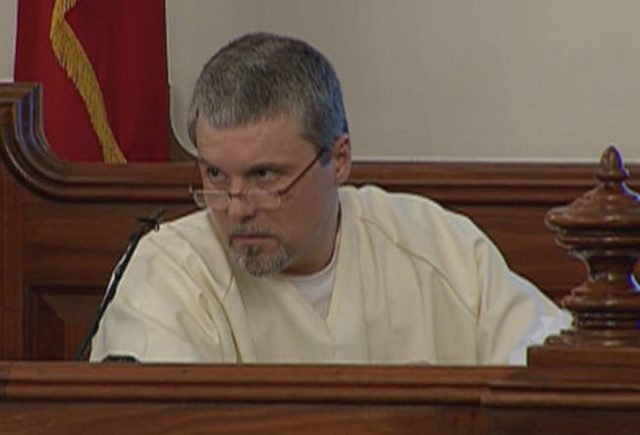 Terry Dicus, the former lead investigator into the disappearance and murder of 20-year-old Holly Bobo of Tennessee, has filed court documents slamming the veracity of star witness Jason Autry. In the documents, Dicus says Autry's testimony at the recent trial of Zachary Adams was "factually and materially false." Dicus, now an attorney, previously worked for the Tennessee Bureau of Investigation before being removed from the case.
Defendant Zachary Adams was convicted of first-degree murder and a litany of other charges related to Bobo's death in a trial wrought with accusations that the state was withholding evidence and other procedural conundrums. His brother Dylan Adams is the next person scheduled to stand trial for Bobo's death. Suspect Shayne Austin committed suicide. Co-conspirator Jason Autry testified against Zachary Adams at trial in return for a federal, but not a state, immunity agreement.
In an eleven-page affidavit, Dicus says he feels compelled to speak out in "an earnest desire for justice and not for any improper purpose, such as collusion with any of the parties, their counsel or any other organization." In the document, he attempts to deconstruct the testimony of Autry, who admitted on the witness stand to being present for many of the acts allegedly perpetrated against Bobo. Autry said that though he was involved, he didn't commit the most stomach-churning acts he alleged. Autry also testified he had lied before about the case.
Dicus says cell phone evidence doesn't line up with Autry's version of the events. He says Autry and defendant Zachary Adams would have had to have driven 106 miles an hour on "rural, winding and sometimes gravel roads" in order for Autry's testimony to match the available cell phone records which indicate who was where, and when. Additionally, whomever had victim Holly Bobo's phone would have had to have driven 1,227 miles an hour (yes, that's right, more than 1,000 miles an hour) on these "rural, winding and sometimes gravel roads" in order for Autry's version of events to fit with the known cell phone records.
In short, Dicus says, "Autry's story is impossible, not just improbable."
Dicus also says suspect Shayne Austin had been "exonerated" in a lie detector test administered at his request while he was employed by the TBI. Dicus argues that Autry must have been lying when he testified that Austin was involved with Bobo's death because Austin's "parasympathetic nervous system indicated he wasn't." Dicus further claims that "[i]nnocent people may fail a polygraph, but guilty people cannot pass a polygraph." He notes that the person who administered the test on Austin has since been terminated from the TBI for unknown reasons despite years of good service. Dicus notes that lie detector tests are inadmissible in Tennessee, but he argues that newer machines are 96% to 98% accurate and should be made admissible.
Dicus says Shayne Austin could not be the kidnapper because "(a) he did not have a working vehicle, (b) his hair color was bright red, and not black like our witness [Clint Bobo] said, (c) at 9:23 a.m., he was many miles away from the victim's cell phone ping at 9:25 a.m. and (d) he showed no signs of deception on a polygraph examination."
Dicus further says Shayne Austin's voice didn't match the "deep, raspy, smoker's voice" that Holly's brother Clint Bobo described to him more than two years ago as the voice of his sister's abductor.
Dicus also says Autry told him during a July 2011 interview that Autry knew Holly Bobo because "she was his cousin."  At trial, though, "Autry said he was 'clueless' because he did not know Holly Bobo." Dicus pointed out several links between the Autry and the Bobo families as reasons why Autry's statements at trial about the family connections are unreliable.
Dicus ends his affidavit by saying the court may consider it "for any, or no, purposes it deems necessary." At a later hearing, Autry's attorney asked that the Dicus affidavit be struck from the record, and the judge agreed.
Dicus was taken off the case because his superiors thought he developed tunnel vision and refused to examine all possible suspects, according to trial testimony.
Terry Dicus Affidavit by LawNewz on Scribd
[Editor's Note: this report has been updated to include the judge's decision to strike the affidavit from the record. It has also been updated to include a PDF of the affidavit.]
Have a tip we should know? [email protected]
Aaron Keller - Deputy Editor-in-Chief