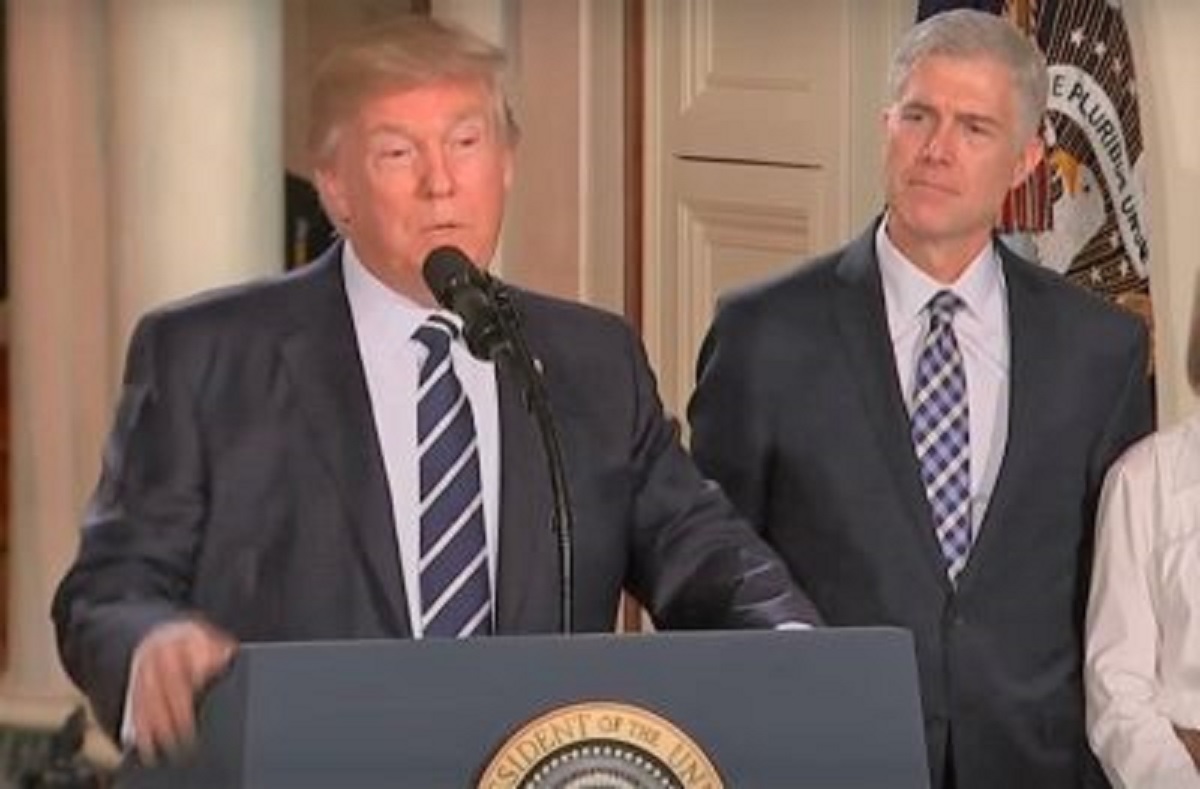 Of President Donald Trump's selections for judicial nominations, 29 have been approved by the U.S. Senate. According to a Pew Research Center study, however, those confirmations haven't gone quite as smoothly as under past administrations. Pew's data, which they gathered from the Federal Judicial Center, shows that on average, the judges confirmed under the Trump administration have received more votes against them than those of any other president in history.
The 29 judges, who include among their ranks 14 appellate court judges and one Supreme Court justice, and a breakdown of 23 men and six women, received a total of 654 "no" votes from the Senate. That's an average of 22.6 per person, the most since the Senate expanded to 100 members in 1959, the study shows. The second highest? President Barack Obama's picks, who averaged 6.2 votes against them (the study counts each confirmation vote separately, so if a judge was up for more than one job, like Clarence Thomas for D.C. Court of Appeals and Supreme Court under George H.W. Bush, they were counted multiple times).
The high number does appear to be a sign of the times, as Senators have become less inclined to approve judicial picks over the years. While 99 percent of President Kennedy's picks were approved, President Obama only got 83 percent. As it turns out, as contentious as Trump's picks have been, he's actually been pretty successful in at least one respect, having more appellate court nominees confirmed in his first year than anyone else, with 12.
The struggles that Trump's picks have had in winning over the Senate also show just how severe the partisan divide has become. All but one of the votes against Trump's picks have been from Democrats of Independents who caucus with them. The only time a Republican voted against one of Trump's nominees was when Louisiana's John Kennedy voted against Gregory Katsas when he was up for his D.C. Court of Appeals job.
A couple of developments skew the numbers a bit when it comes to recent data. For starters, the method of voting.
"It wasn't until the Clinton and George W. Bush presidencies that the Senate began regularly deciding on a president's judicial nominees through roll call votes, rather than voice votes," the study says, which resulted in "an uptick in recorded opposition."
Additionally, the elimination of the filibuster for nominees has allowed judicial picks to be confirmed while receiving more votes against them than would have been allowed until those rules were changed in recent years. While this results in some judges being confirmed when they otherwise would not have been, it also means that the votes against them shift the average. For example, Justice Gorsuch had 45 votes against him. In the past, that would have been enough to keep him off the Supreme Court, but the rule change let him get through.
Despite the current statistics, however, Trump is still just beginning his second year in office, with about three to seven years to go. As the study notes, "It's too early to measure Trump's success rate in any meaningful way."
[Image via screengrab]
Have a tip we should know? [email protected]