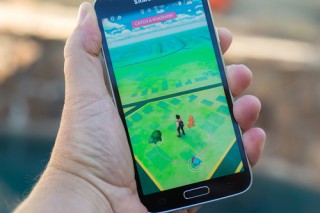 Pokémon Go's popularity is exploding! It's responsible for a huge spike in the value of Nintendo's shares, and also some unwanted attention for a string of crimes.  Here at Abrams Media and LawNewz.com, everyone is talking about the hilarity of seeing people bump into things walking around with their iPhones. So, we thought now was a good time to review your legal rights when it comes to this game. Most people don't even realize that you agree to a super dense privacy policy and terms of service agreement before you even start playing. Since most people don't have time in their busy lives to sort through all the legal jargon, we thought we would do it for you! We will be hosting a special Facebook Live session with our partners over at The Mary Sue on Tuesday at 4 p.m. So please tune in, and we will answer your questions.
Here is some of what you need to know.
Play at your own risk. If you are injured, the game company is likely not liable.
It is your responsibility to make sure you stay safe. And, in fact, that warning pops up when you play.  In fact, the terms of service explicitly state "The Pokémon Company ("TPC") and TPCI disclaim all liability related to any property damage, personal injury or death that may occur during your use of our Services, including any claims based on the violation of any applicable, law, rule or, regulation on your alleged negligence or other tort liability."
You are responsible for your account. 
You're responsible for all activities that occur under your account even if someone takes it over — that is not you!
You can't sue if you are injured or for anything else! The company will force you into arbitration. 
One of the first items covered in the terms of service is an arbitration notice.  You are covered under this arbitration notice "except if you opt out and except for certain types of disputes." That means that if you have a legal issue with the company, they are going to force you into arbitration. Arbitration is a technique of dispute resolution that is done outside of the court. The only exception is that you can bring a claim in small claims court (usually less than $5,000 claim) — or if you have an intellectual property/copyright claim.   IMPORTANT — you can "opt out" of the arbitration clause, if you provide Niantic (the company) written notice via email or mail: [email protected] or 2 Bryant St. St. 220, San Francisco CA 94105. But, you have to do this 30 days after accepting the terms of agreement.  If you do that, you will be free to sue in court. If you don't do it (which most users won't), you are waiving your right to a trial by a jury and to be a member of class action!
What if you have a legal dispute with the company?
Provided that you didn't opt out of the arbitration clause, you will be forced into arbitration. You have to do several things including providing a written demand letter to the company. The American Arbitration Association will appoint an arbitrator. The arbitration will occur in the county that you reside, and you could be held liable for paying fees if you file an improper claim.
Trespassing. Don't do it, it's illegal.
Even though Pokemon might end up on private property, it is illegal to trespass. You can't do it. In every state, you can be fined and/or arrested! This is serious business.  That said, you are allowed to go anywhere the public is allowed. A sidewalk, a park, but please be careful going onto a busy road.
You can only download the app for personal use.
The agreement prohibits you from copying it, modifying it or even creating derivative works based on the app. Though the last point, in my opinion, might be hard to enforce! Also, you can't reverse engineer it or disassemble the app. Interestingly, not sure how they would be able to track you if you did that. Oh, and if you downloaded the App from the Apple Store, you might not know but you also agreed to use the App only with an Apple-branded product … and by their terms of service.
You don't have any ownership rights in "virtual money" or "virtual good" 
And just in case there was any confusion, the terms of service agreement says: "You agree that Virtual Money and Virtual Good or Virtual Money does not reflect any stored money." Bottom line: virtual money has no real value in the real world, and can't be used to buy things.
The company can cancel your access to the game … at any time!
The company can terminate your access to the game "at our sole discretion, at any time and without notice to you."
You are giving up some of your privacy rights. 
If you connect via your gmail account, you may have given the company broad permissions, including reading your emails. 
Google's summary of permission includes:
On the Apps connected to your account page, you can see a list of third-party sites and applications. These are sites and applications to which you've granted permission to access your Google Account, and you can see on this list to what parts of your account they have access.

For example, you might have downloaded an app that helps you schedule workouts with friends. This application might have requested access to your Google Calendar and Contacts to suggest times and friends for you to meet up with.
The app also collects and stores information about your location, your device identifier, user system and operating systems when you are using the app.
Have a tip we should know? [email protected]
Rachel Stockman - President / On Air Host