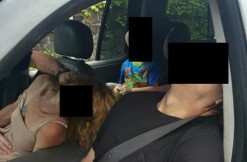 The woman in a pair of viral photos was sentenced to jail on Thursday. An Ohio judge sentenced Rhonda L. Pasek to 180 days in jail after she pleaded no contest to charges of endangering children, and disorderly conduct/intoxication.
Police say that on September 7, James Acord, 47, was driving erratically with Pasek, 50, in the passenger seat, and her 4-year-old grandson in the back. Both adults were passed out, allegedly strung out on heroin, so cops posted their pictures on social media.
"We are well aware that some may be offended by these images and for that we are truly sorry, but it is time that the non drug using public sees what we are now dealing with on a daily basis,"the East Liverpool Police Department said in a statement on  Facebook. "The poison known as heroin has taken a strong grip on many communities not just ours, the difference is we are willing to fight this problem until it's gone and if that means we offend a few people along the way we are prepared to deal with that."
Acord has already pleaded no contest to endangering children and operating a vehicle while impaired. He was sentenced to 360 days behind bars.
The boy had been in Pasek's custody, but will now live with a great-aunt and great-uncle in North Carolina, NBC reports. She's livid that the pictures, as published by police, showed everyone's faces.
"The city of East Liverpool humiliated my family and humiliated that little boy," Pasek's sister told the outlet in a Wednesday report. "They could have blurred his face and they didn't. And now they're taking him away from my sister. I'm not condoning what Rhonda done, but what they did to her and what they're doing to her grandson is too much."
[h/t ABC 10]
[image via East Liverpool Police Department]
–
Follow Alberto Luperon on Twitter (@Alberto Luperon)
Have a tip we should know? [email protected]