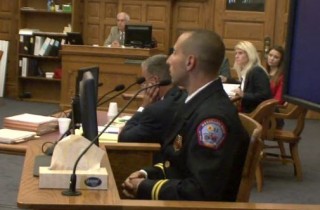 The second murder trial for Colleen McKernan began on Monday.  McKernan was charged with shooting and killing her husband Rob on New Year's Eve 2014, less than a year after they got married. McKernan has long claimed she acted in self-defense. A previous trial ended in a hung jury.
In opening statements, the defense said that McKernan suffered from battered woman's syndrome and acted in self-defense. The prosecution said this was not the case, and that McKernan killed her husband in an "alcohol-fueled fit of rage."
Defense said Colleen McKernan is not a murderer. She defended herself and suffered from battered woman syndrome.

— Ed Balint (@ebalintREP) August 23, 2016
Assistant prosecutor: Colleen McKernan killed her husband, Rob, in an "alcohol-fueled fit of rage" on Dec. 31, 2014.

— Ed Balint (@ebalintREP) August 23, 2016
The prosecution then began to set the stage with its first witnesses, who had been with the McKernans the night of the shooting. It was New Year's Eve, so they were at a party at a friend's home. At one point, a witness said, they went to a bar, then went back to the party. The jury got to see video footage of the couple, and two friends, at the bar, where a witness testified that Colleen and Rob were acting normally.
The same witness did say, however, that both Rob and Colleen looked like they were feeling the effects of alcohol by the time they left the bar. The witness also gave an account of Rob taking out white powder and attempting to snort it. He said Colleen wasn't present at the time, and that when she returned, he told Rob, "Heads up" so he would stop. According to the testimony, Colleen became upset at that point and yelled at her husband. Later that night, he said he heard Colleen say, "it wasn't my fault," believing that she was referring to the dispute over the drugs.
A neighbor of the McKernans, Mike Sakotas, testified that he was expecting them to come over to his house that night to watch the ball drop, but they never showed. He said that at one point, he heard what he thought was Rob's truck pulling up, and that soon after he heard what he believed was knocking at his front door. When he answered it, no one was there. When asked if what he thought was knocking could have been the sound of shots being fired, Sakotas, who said he owns 12 or 13 guns, said it is possible.
To close out the day, officials who responded to the scene testified, painting a picture of what they saw. Fire Captain Bob Knapp relayed how he found Rob McKernan's body inside the home. Officer Shaun Dadisman described how he found shell casings in a hallway and near Rob's body. Officer Dadisman' testimony will resume Tuesday morning.
Stay with LawNewz.com for continuing coverage of the trial as it goes on.
Have a tip we should know? [email protected]