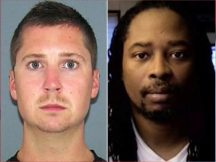 A prosecution witness insisted Friday in a police officer's murder retrial she heard a gunshot before the car driven by an unarmed black motorist moved.
Alicia Napier took the stand during the second day of testimony in defendant Ray Tensing's case to tell about what she saw and heard as she was getting her two small children situated inside her car parked near the shooting scene.
The fired white University of Cincinnati police officer has said he feared for his life when Sam DuBose tried to drive away from the traffic stop in July 2015.
"It moved after he shot," Napier said of the car DuBose was driving. She said when she first heard a gunshot, she thought it was Tensing who had been shot. She saw Tensing fall back, and then the car began moving toward hers, she said.
Asked by prosecutor Seth Tieger if she was "100 percent sure" the car moved after the shot, she replied, "Yes."
Defense attorney Stewart Mathews suggested in his questioning that Napier was distracted while caring for her daughter in the backseat and drew some of her story from video she watched later.
Jurors later saw Tensing's videotaped statement to Cincinnati police investigators in which he said he believed DuBose "was actively trying to kill me" with the car. As the statement played in the courtroom, Tensing at times dropped his head or wiped at his eyes.
DuBose was driving DaShonda Reid's car when Tensing stopped him for a missing front license plate. She was DuBose's fiancee and mother of three of his 13 children. She testified the car had bad brakes.
Mathews asked her a series of questions about items found in the car, including four cellphones, a significant amount of marijuana and multiple medications. She said they weren't hers.
Both Napier and Reid testified in Tensing's first trial, which ended with a hung jury last November. That jury also saw Tensing's videotaped statement.
Testimony will continue Monday.
Have a tip we should know? [email protected]