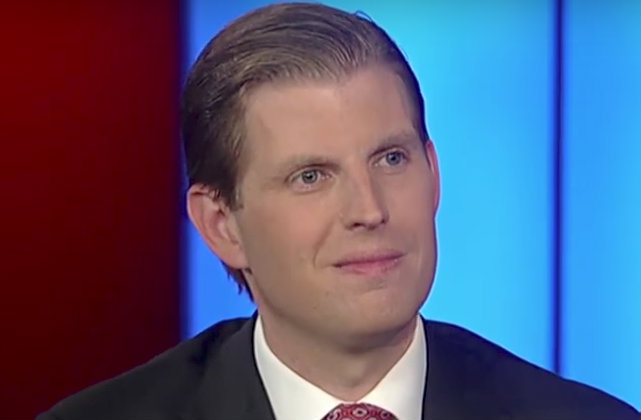 The Eric Trump Foundation is being investigated by the New York Attorney General's Office for allegedly funneling charity money toward Trump family business interests. This announcement comes after a bombshell Forbes article.
"The attorney general's office is looking into the issues raised by this report," NY AG spokesman Eric Soufer told the outlet on Friday.
The report in question said it seems the Donald J. Trump Foundation gave the Eric Trump Foundation–run by the President's son Eric Trump–$100,000 that ended up with the business-oriented Trump Organization.
The Eric Trump Foundation's purpose is to benefit the St. Jude Children's Research Hospital.
Eric Trump had claimed they didn't have to pay any money to the Trump Organization to use a golf course of the charity's annual event. Therefore, most of the donations went directly toward benefiting children with cancer.
"We get to use our assets 100 percent free of charge," he told Forbes. But the outlet obtained filings which apparently showed that the Trump Organization did get paid for it.
Donald Trump himself reportedly ordered that the Eric Trump Foundation get billed for using the golf courses, according to two people with direct knowledge of the decision: Ian Gillule, a former marketing director for one of the Trump golf courses, and Katrina Kaupp, who used to be on the Eric Trump Foundation board of directors.
"We did have to cover the expenses," Kaupp told Forbes. "The charity had grown so much that the Trump Organization couldn't absorb all of those costs anymore."
Also covered in the report: other funds were, over the course of a decade, donated back to other charities, including those linked to Trump golf courses.
In a statement to LawNewz.com, a spokesperson for Eric Trump said they promise to cooperate in the investigation:
During the past decade, the Eric Trump Foundation has raised over $16.3 million for St. Jude Children's Research Hospital, including more than $3.6 million to St. Jude and other worthwhile causes just in 2016 alone.  The Foundation intends to cooperate fully with the Attorney General's review, and looks forward to a productive and open dialogue with the Attorney General's Office to address any questions it may have.
[Screengrab via Fox News]
Have a tip we should know? [email protected]