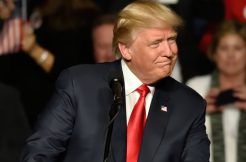 On Sunday, WikiLeaks announced that they'd really like it if somebody, anybody, sends them President Donald Trump's tax returns.
Trump Counselor Kellyanne Conway stated today that Trump will not release his tax returns. Send them to: https://t.co/cLRcuIiQXz so we can.

— WikiLeaks (@wikileaks) January 22, 2017
Trump's breach of promise over the release of his tax returns is even more gratuitous than Clinton concealing her Goldman Sachs transcripts.

— WikiLeaks (@wikileaks) January 22, 2017
This comes after Trump spox Kellyanne Conway told ABC's George Stephanopoulos that the President wouldn't bother releasing his returns.
"We litigated this all through the election," she said. "People didn't care. They voted for him, and let me make this very clear: Most Americans are very focused on what their tax returns will look like while President Trump is in office. Not what his look like."
During the presidential campaign, Trump said he would release his tax returns after the IRS was done auditing him. He has denied any wrongdoing after allegations that he misrepresenting his real fortune, and that Russian interests have some sort of leverage over him.
WikiLeak's demand also stands in stark contrast to its alleged pro-Trump bias. They published messages hacked from the account email account of Hillary Clinton's campaign chairman, leading to months of bad press for the Democratic candidate. Critics angry over Trump's victory blame the organization for their influence. This bitterness has carried on post-election.
[image via Evan El-Amin and Shutterstock]
Have a tip we should know? [email protected]