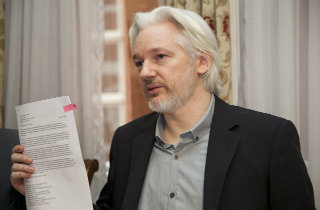 The open-secrets group Wikileaks has threatened CNN with a defamation lawsuit on Wednesday after a commentator reportedly referred to founder Julian Assange as a "pedophile who lives in the Ecuadorian embassy in London."
We have issued instructions to sue CNN for defamation:https://t.co/YLfyQ9ROCy

Unless within 48h they air a one hour expose of the plot.

— WikiLeaks (@wikileaks) January 4, 2017
The comment came from former CIA counterterrorism official Phil Mudd during the Wednesday morning airing of "New Day." Assange was mentioned in the context of an interview he gave on Fox News Tuesday night. CNN's video has since been pulled down.
However, LawNewz.com managed to track down the clip that lives on thanks to the internet:
The supposed "plot" reportedly refers to allegations that Assange molested an eight-year-old girl in the Bahamas.  The story was allegedly promoted by a company that had a business falling out with Assange.  The Bahaman police have never identified a victim, not are they pursuing the matter, according to McClatchy DC.
A spokesperson for CNN released this statement about Wednesday morning's segment:
An analyst on our air earlier today asserted that Julian Assange was a pedophile, and regrets saying it. In fact, CNN has no evidence to support that assertion. Assange is currently wanted for extradition to Sweden to face sexual assault allegations there, and no evidence suggests that the women involved were minors. We regret the error.
Assange remains inside the Ecuadorian Embassy in London, claiming false detention.  He reportedly has stayed there for nearly four years because he ultimately fears extradition to the United States where he could face charges related to several high-profile leaks.
Editor's Note: This post has been updated with a statement from CNN. 
[image via Wikicomons]
Have a tip we should know? [email protected]