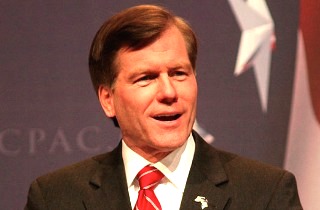 There has been an uproar after the Supreme Court's unanimous decision to throw out the conviction of former Governor Bob McDonnell.  Most have complained that the decision makes it 'harder' for prosecutors to go after corrupt politicians. One author, in an article for the The New Yorker, even stated that the justices gave a "blessing" to bribery. Others went so far as to say that the Supreme Court decision will somehow allow politicians to run amok accepting bribes and make American democracy less transparent and more corrupt. I believe those fears are quite overstated.  The truth is the decision does makes it 'harder' for prosecutors, but I think, under these circumstances, that's a good thing.
Don't get me wrong, I hate corruption more than anybody. I am naturally inclined to think every politicians is inherently corrupt (unfortunately my theory has proven true time and time again).  And, I agree that the actions of former Virginia Governor Bob McDonnell are, as Justice Roberts put it, very "tawdry."
But what might be just as bad, and maybe even worse, is when prosecutors have the unlimited authority to decide what counts as a crime, spend countless resources to make their case, and then go virtually unchecked in their power to broadly interpret laws so as to obtain a conviction. Just as politicians peddle influence, prosecutors try to score convictions to boost their reputations or secure lucrative white-collar jobs after serving out their short-lived public careers. At worst, prosecutors have even been known to commit constitutional violations in their pursuit of a conviction.  Case in point is former Senator Ted Stevens. Everybody remembers that he was found guilty on federal corruption charges, and lost his longtime Senate seat because of it. What everybody seems to forget is that conviction was thrown out because FBI agents and prosecutors apparently conspired to withhold and conceal evidence that could have likely resulted in a 'not guilty' verdict.
The bottom line is the McDonnell case is a story of prosecutorial overreach. The Supreme Court's concern is "with the broader legal implications of the Government's boundless interpretation of the federal bribery statute." What did former Governor Bob McDonnell do? After receiving $175,000 in loans and gifts from Jonnie Williams,  a chief executive of a nutritional supplement company, he made phone calls to arrange meetings, he hosted events, and contacted other government officials concerning research on Williams' behalf. (As it turns out,  he didn't do a very good job, the businessman wasn't really helped by all of McDonnell's efforts.) However, more important is what the former Governor did not do. McDonnell didn't award Williams' a contract.  McDonnell didn't hire Williams' wife for some kind of cushy government job. McDonnell didn't expedite and approve Williams for a special business permit. McDonnell didn't re-write a regulation to help boost Williams' business. Those would all be text book examples of an official act.
The questions that the justices tackled is whether the actions listed above (making phone calls and setting up meetings) constituted an "official act" which was an essential element of the crime for which McDonnell was found guilty. The Court found they did not.
"Setting up a meeting, talking to another official, or organizing an even (or agreeing to do so)–without more–does not fit the definition of "official act," Justice Roberts wrote. Despite what you may have heard in the media, I spoke with several former federal prosecutors, who actually believe this case will make it easier for prosecutors. Instead of a murky gray area,  prosecutors will have a clear understanding of when public officials have crossed the line and committed a crime.
"It limits federal prosecutors ability to utilize the bribery statute in way that is beyond the scope of coverage of the statute,"  Henry E. Hockeimer, a former federal prosecutor, told LawNewz.com,  "It reigns prosecutors in for over charging and overusing the bribery statutes."
As for Mr. McDonnell, what he did is beyond despicable. No politician should think it's okay to accept Rolex watches, loans for homes, and private plane rides.  He truly made a mockery of our political system. He's an example of why people hate and distrust politicians. And, there are still opportunities for state's to pass stronger gift laws, and campaign finance laws to prevent this sort of thing from happening. But, prosecutors should not and can not  "stretch" the law just because, well, McDonnell's actions stink.
"Criminal prosecutions are not a sandbox in which to test novel spins statutory language. Lives, and careers, not to mention the rule of law, are at stake," Jeffrey Green and Ivan Dominguez, wrote in a post on SCOTUSblog. I couldn't agree more.
Have a tip we should know? [email protected]
Rachel Stockman - President / On Air Host