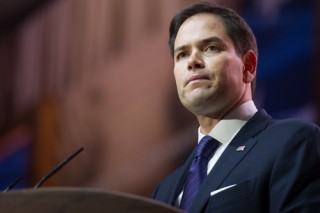 Harry Reid, the Democratic Senate Minority Leader from Nevada, blasted Republican Senator and failed Presidential candidate Marco Rubio on Tuesday for his poor voting record, The Hill reported. Rubio has been criticized for missing votes in the past (he missed more votes last year than any other Senator), but Reid took it a step further, saying the Florida Senator should be sued over his low attendance rate.
"I feel that Marco Rubio should be sued to pay back all the money that the federal government paid him," Reid said to reporters. "He was never here, and the state of Florida was missing a senator during that time." He added that Rubio owes that missing time to the people and state he represents.
After initially saying that he would not seek reelection this November, Rubio recently reversed that decision, and Reid doesn't seem pleased about it. "On the day he announces he's running for the Senate he misses a very important Foreign Relations meeting," he pointed out.
Of course, Rubio can be sued over this but it probably won't be a winning case. Missing votes during a Presidential campaign is common, and also no indication that Rubio poorly represented his state (even if it was, discipline would be decided on by the Senate, not Rubio's constituents through a lawsuit). The Hill notes that Rubio pointed out that he was present for votes that he felt were significant, and where he believed his presence could make an impact, instead of ones where votes are already counted and outcomes are known beforehand.
Have a tip we should know? [email protected]