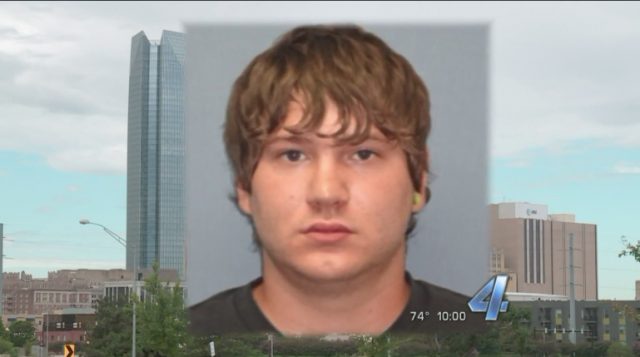 A 23-year-old man connected to white nationalists was arrested over the weekend for allegedly attempting to detonate a 1,000-pound bomb at a bank in downtown Oklahoma City.
Jerry Drake Varnell was taken into custody after authorities said he tried to blow up the BancFirst building via remote detonation at around 1 a.m. on August 12.
Varnell apparently subscribes to the Three Percenter ideology, an ahistorical notion that only three percent of American colonists were responsible for the patriotic violence of the American Revolution. Three Percenters were very visible attendees at the Unite the Right rallies in Charlottesville and some members have recently taken to armed defense of a local chapter of the Oregon Republican Party. A Three Percent spokesperson said Varnell's membership in the group was brief.
According to the criminal complaint filed by the U.S. Attorney's Office for the Western District of Oklahoma:
"[Varnell] took a series of actions to advance his plot. He identified BancFirst as the target, prepared a statement to be posted on social media after the explosion, helped assemble the device, helped load it into what he believed was a stolen van, drove the van by himself from El Reno to BancFirst in downtown Oklahoma City, and dialed a number on a cellular telephone that he believed would trigger the explosion."
The bomb, however, was an inert fake and never stood a chance of actually being detonated. Special Agent in Charge of the FBI in Oklahoma, Kathryn Peterson, said: "I can assure the public, without hesitation, that we had Varnell's actions monitored every step of the way."
The FBI, by way of one or more confidential informants, urged Varnell along and helped him to attain what he believed were the materiel and equipment necessary for the attack. After learning of Varnell's intention to "bomb the Federal Reserve Building in Washington D.C. in a manner similar to the Oklahoma City bombing," via the informant, the FBI paid them and then instructed their undercover asset to tell Varnell "that he/she knew of a person with access to large quantities of ammonium nitrate and experience in explosives," according to the complaint.
And now, Varnell's family is up in arms about the FBI's tactics.
In a statement released to local NBC affiliate KFOR, Melonie and Clifford Varnell said:
"What the public should be looking at is the fact that the FBI gave our son the means to make this happen. He has no job, no money, no vehicle, and no driver's license, due to the fact that he is schizophrenic and we, his parents, do everything we can possible to keep him safe and functional."
According to that statement, the FBI had prior knowledge that Varnell was schizophrenic and thus, susceptible to extreme ideologies and actions "that normal people would deem immoral."
Witheringly, his parents went on, accusing the FBI of "aiding and abetting" a "paranoid schizophrenic" with no ability to have committed the crime without the criminal informant's urging and the FBI's help. They said: "The FBI came and picked him up from our home, they gave him a vehicle, gave him a fake bomb, and every means to make this happen none of which he had access to on his own."
A man claiming to be Varnell's brother wrote, in a post on Facebook, "My brother is schizophrenic and the FBI brought him the van loaded with explosives. Good job America."
[image via screengrab]
Follow Colin Kalmbacher on Twitter: @colinkalmbacher
Have a tip we should know? [email protected]