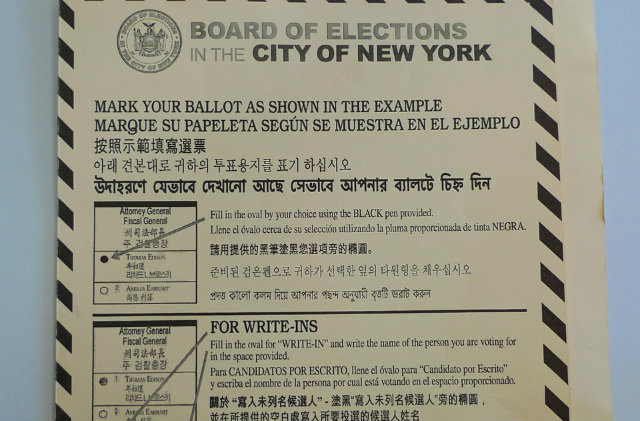 Multiple states are voting in statewide and municipal elections tomorrow. There are important gubernatorial and state legislature races occurring in New Jersey–where Governor Chris Christie's days are term-limited–and Virginia–where the Democratic Party is poised to wrest defeat from the jaws of victory for the umpteenth time.
New York City doesn't have a very high-profile election contest. The only real point of tension is whether write-in candidate Marc Fliedner can take out embattled Democratic incumbent District Attorney Cyrus Vance. We'll see, but though NYC isn't likely to be glued to ballot results as they come in, there is something happening in wider New York State that has citizens either passionate or puzzled.
The first question on the New York State ballot for November 7, 2017 asks:
Shall there be a convention to revise the Constitution and amend the same?
Those who are in favor of a Constitutional Convention would vote Yes. Those opposed would vote No.
What It Is
If the measure passes, a constitutional convention will be scheduled for the spring of 2019.
The term "convention" is being used in a somewhat old-fashioned way here. What would actually be coming in the spring of 2019 is something akin to a legislative body–a convention–made up of 204 delegates.
Three delegates would be drawn from each of New York's 63 state senate districts. An additional fifteen at-large delegates would be elected from across the state. The delegate-selection election would occur in 2018 and any legal, adult resident of New York State would be eligible to run.
What It Does
Once elected, the 204 delegates are given essentially free reign to propose amendments to the New York State constitution. Those amendments approved by the delegates are then presented in the form of ballot initiatives on the election day scheduled for Nov. 5 2019. None of the changes can become law unless approved by voters.
That means changing the New York constitution this way is a three-step process. Let's go over it again for the sake of review. First, New Yorkers must decide there should be a convention. Second, convention delegates must propose then approve amendments. Third, voters will vote Yes or No on any amendments.
New Yorkers rejected proposals after the last convention in 1967.
Why Should Anyone Care
The State of New York is widely viewed as a corrupt relic of machine-era politics. Voters in the state may not entirely agree with that categorization, but the state is notorious for partisan gridlock. The MTA and Port Authority are famously mismanaged and constantly overbudget. The Governor and NYC's mayor constantly argue about who's responsible for being in charge of how bad the subways are. As an example, the way the MTA is set up is largely to blame for these squabbles between politicians. Restructuring it via constitutional amendment is one way critics say the state could solve solve such problems.
Here's one catch for No voters: NY State is only allowed to hold constitutional conventions every 20 years. Voters passed on their last chance in 1997. If they decline again on Tuesday, then there won't be another chance to approve a convention until 2037.
No, Really, Why Should Anyone Care? Isn't This Just a New York Issue?
Conventions are rare nationwide. The U.S. Constitution allows for such a thing at the federal level–
The Congress, whenever two thirds of both houses shall deem it necessary, shall … on the application of the legislatures of two thirds of the several states, shall call a convention for proposing amendments, which, in either case, shall be valid to all intents and purposes, as part of this Constitution, when ratified by the legislatures of three fourths of the several states, or by conventions in three fourths thereof, as the one or the other mode of ratification may be proposed by the Congress; …
–But none of the 27 amendments were passed this way.
Let's put it this way: It would be educational to see a convention play out in today's divisive political landscape.
Who Is For And Against It?
The establishment is against it, more or less: De Blasio is against it. The Cornell Daily Sun stepped out against it. Governor Andrew Cuomo voiced ambivalence. But there are some high-profile defectors. The New York Daily News editorial board endorsed the measure, known as Proposal 1.
A plurality of the state's voters supported it in a Siena College poll published in July.
"In previous Siena College polls, support for ConCon has been overwhelming, including a 62-22 percent bulge in May," said pollster Steven Greenberg. "Now, however, with a newly worded question which includes what voters will see on the November ballot, support for ConCon is only 47-34 percent. A strong majority of Democrats and a plurality of independents support it, while a plurality of Republicans opposes it. A plurality of voters from every region of the state also support it. Voters from every region and party strongly support the constitutional amendment on the ballot to reduce or revoke the pensions of public officers convicted of felonies related to their duties."
The upcoming convention isn't well known, however. Greenberg said two-thirds of New Yorkers heard "nothing at all" about it. Only 14 percent heard at least something about it. Greenberg said this is consistent with findings across the previous two years.
That means some New Yorkers may not expect the question on ballot boxes Tuesday. Surprise!
A lot seemed to change since that July poll, however. A new Siena College release from Nov. 1 showed that "By a wide margin, 57-25 percent, likely voters say they will vote 'no' on the Constitutional Convention proposal on next week's ballot." Researchers found that 60 percent said it would be an "expensive waste of time."
Awareness of the convention increased significantly compared to prior polls: only 19 percent of respondents reported reading or hearing nothing about proposal 1.
Alberto Luperon contributed to this article.
Update – Nov. 7, 1:04 p.m.: We added more information from Siena College poll released November 1.
[image via Leonard Zhukovsky and Shutterstock]
Have a tip we should know? [email protected]