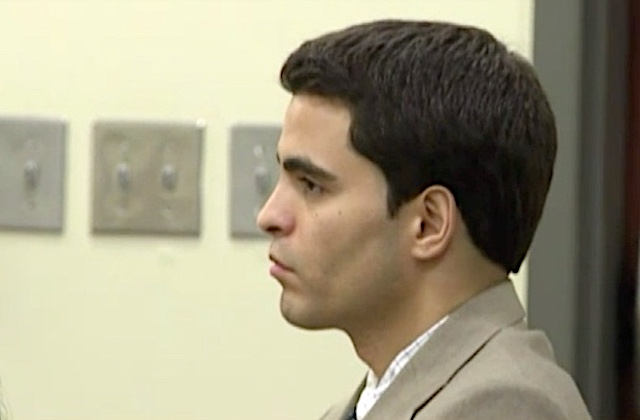 Adam Matos, who stands accused in Florida of four counts of first-degree murder and who could face the death penalty, at one point asked a relative of several of the victims about the O.J. Simpson murder case.
Relatives says Matos had a volatile relationship with Megan Brown, his ex-girlfriend and the mother of his child. Prosecutors say he killed Brown, her parents Gregory and Margaret, and a man said to have been a new romantic interest, Nick Leonard.
WATCH LIVE COVERAGE OF THE MATOS MURDER TRIAL HERE
In a deposition, Linda Thomas, Megan's step-grandmother and Margaret's stepmother, said Matos had asked her about her connection to the O.J. Simpson murder case.  Thomas, a former attorney, had worked on the case.  Here's how she described the conversation in a deposition:
Thomas:  And then, somewhere out of nowhere, asking me about some of my own legal casework that I had done.

Attorney:  What was he interested in there?

Thomas:  "Is it true you worked on O.J. Simpson's case?"

Attorney:  Did you?

Thomas:  Yes, I did.
It's unclear from the deposition why Matos asked about the connection. It could have been an attempt to make polite conversation with a relative. The question could, however, be interpreted as a loaded one, given that Matos had reportedly been in trouble with the law long before the conversation and would a few weeks later stand accused of killing four people.
In the same deposition, Linda Thomas said she struggled to make sense of many of her conflicting interactions with Matos.
She and other relatives used the following words to describe Matos:  adoring, caring, thoughtful, loving, not indifferent, not impatient, and frightening.
At times, he thanked people for their concern; at others, he fought so loudly and so boldly with Megan Brown that other relatives had to break up the fights.
Thomas said it was hard to forge a bond with Matos because he chose to spend time alone in his bedroom and not out with the family with whom he was living in Florida.
Matos's defense team chose not to make an opening statement at the beginning of the trial and has not cross-examined many of the state's key witnesses. It remains unclear how the defense will proceed with the case, though other pretrial depositions hint that the defense might blame a different suspect police decided to rule out.
The LawNewz Network will continue to provide gavel-to-gavel coverage of the Matos trial.
[Editor's note:  this piece has been updated to more accurately reflect the relationships among the various parties.]
Have a tip we should know? [email protected]
Aaron Keller - Deputy Editor-in-Chief