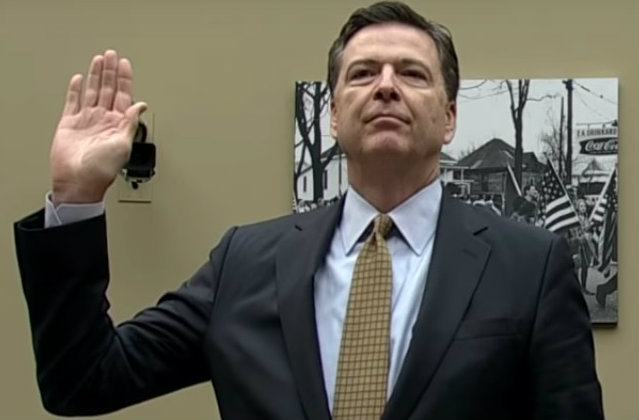 What's the difference between "extremely careless" and "grossly negligent"? The law.
The Senate Judiciary Committee finally got their hands on documents in connection to former FBI Director James Comey's statement letting Hillary Clinton off the hook for mismanaging her work emails. They found something rather curious, at least judging by a statement from their chairman, Sen. Chuck Grassley (R-Iowa).
He wrote the FBI Monday, saying they got what seemed to be a May 2, 2016 draft, in which Comey wrote, "There is evidence to support a conclusion that Secretary Clinton, and others, used the private email server in a manner that was grossly negligent with respect to the handling of classified material."
"….grossly negligent…"
According to Grassley, the draft repeated the phrase later:
Similarly, the sheer volume of information that was properly classified as Secret at the time it was discussed on email (that is, excluding the "up classified" emails) supports an inference that the participants were grossly negligent in their handling of that information.
Months later, Comey declined to recommend charges against Clinton for alleged mismanagement of her work emails as Secretary of State, telling Congress in June of 2016 that "Although we did not find clear evidence that Secretary Clinton or her colleagues intended to violate laws governing the handling of classified information, there is evidence that they were extremely careless in their handling of very sensitive, highly classified information."
The phrase "grossly negligent" is absent. While many legal experts would say that even "gross negligence" in this context still does not rise to the level of criminality, Grassley thinks that's a pretty huge change.
"As you are aware, 18 U.S.C. § 793(f) makes the mishandling of classified material through gross negligence a criminal act," he wrote. "Although Director Comey's original version of his statement acknowledged that Secretary Clinton had violated the statute prohibiting gross negligence in the handling of classified information, he nonetheless exonerated her in that early, May 2nd draft statement anyway, arguing that this part of the statute should not be enforced."
He asked that the FBI provide the original copy of the draft, information on the creation on that draft, and information on why those edits were made.
Law Newz reached out to the FBI for comment.
"In keeping with our usual practice any response is provided to the member of Congress who made a request," the FBI's National Press Office said in a statement.
Update – Nov. 7, 11:45 a.m.: The FBI responded to our request for comment Monday morning. We added their statement to the article.
[Screengrab via C-SPAN]
Have a tip we should know? [email protected]