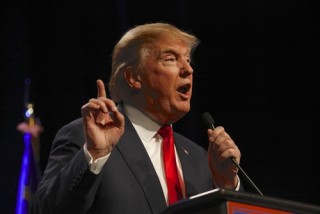 As news reverberates across the country about Justice Antonin Scalia's death, there is no doubt that this will greatly change the makeup of the U.S. Supreme Court. President Obama says he plans to nominate someone prior to a new President being sworn in. However, leaders within the Republican-controlled Senate have already given indications they will stonewall any nominee.
With Donald Trump's win in the New Hampshire primaries, and his recent surge in the polls, a President Trump is becoming less and less far-fetched. So, it is an important question – who in the world would the real estate magnate appoint to highest court? We will likely get a clearer answer during tonight's Republican debate. However, until then, here is what the leading Republican hopeful has said in recent months about what kind of judge or justice he would appoint.
First, just this evening he tweeted:
The totally unexpected loss of Supreme Court Justice Antonin Scalia is a massive setback for the Conservative movement and our COUNTRY!

— Donald J. Trump (@realDonaldTrump) February 13, 2016

In an interview in early January with ABC's George Stephanopoulus he talked about the qualities he would seek:
"Justice Roberts turned out to be a nightmare for conservative," Trump told Stephanopoulus. Trump, who stumbled a bit answering the questions, said, "I'm going to appoint people that have great reputation that are great within the legal profession."
Here is the full interview:

ABC Breaking News | Latest News Videos
In January, Trump said that he would "consider" appointing justices who would overturn the controversial Supreme Court decision on gay marriage:
"They have ruled on it. I wish it was done by the states," Mr. Trump  said on Fox News, as reported by the Washington Times.
The paper reports:
Fox host Chris Wallace asked if that meant Mr. Trump would appoint justices who would want to overturn last year's decision in Obergefell v. Hodges, which held that same-sex couples have a constitutional right to marry. But the real estate mogul didn't fully commit himself to an answer. "I would strongly consider that, yes," he said.
In December, he told reporters that his favorite Supreme Court Justice is Clarence Thomas:
Trump said, according to the Associate Press, that Thomas is his favorite because he  is "very strong and consistent." He made the remarks during a forum in South Carolina in December. Trump also took another jab at Chief Justice John Roberts calling him "disgraceful" and a "disappointment" to conservatives.
In an October interview, Trump said he would love to appoint his sister, a judge, to the U.S. Supreme Court (this is the only name that we could find that he has floated):
Maryanne Trump Barry is a federal circuit judge.  He told Fox News, " I would love to, but I think she would be the one to say, 'No way, no way'." Barry was appointed by President Bill Clinton to the United States Court of Appeals for the Third Circuit in 1999. She came under fire by conservatives for making a controversial decision in 2000 in which she was on a panel that ruled that New Jersey's ban on late-term abortions was "unconstitutionally" vague.
Have a tip we should know? [email protected]
Rachel Stockman - Editor in Chief / On Air Host