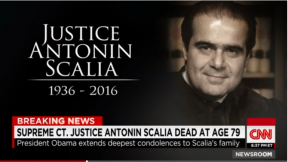 President Obama has made it clear that he will name a successor to the now deceased Justice Antonin Scalia, despite Republican objections and what is likely to be the political story of the year and the political fight of his presidency.
Obama remembered the longest serving justice as a consequential jurist. He continued, "Tonight we honor his extraordinary service to this nation as one of the towering legal figures of our time."
The President was clear, he will nominate a Justice for the Supreme Court in due time. President Obama reaffirmed his constitutional right as the Executive to nominate a Justice "with the advice and consent" of the Senate.
The Supreme Court could go without a ninth justice, or with a vacancy, for a full year until the next president is elected. However, this would be relatively unprecedented. For Republicans, Justice Scalia stood for the crucial fifth vote, the swing vote. With Scalia's passing, the court is in the balance.
Justice Scalia died of natural causes in his sleep while away on a hunting trip in West Texas.
[h/t NewYorkTimes]
[Screengrabs via ABC News/CNN]
Have a tip we should know? [email protected]