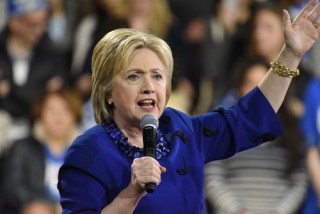 Newly released documents show Hillary Clinton and her top aides at the State Department began using private e-mail accounts approximately one month after her office tried but failed to compel the National Security Agency (NSA) to allow Clinton and her staff to use smartphones inside the State Department's Sensitive Compartmented Information Facilities (SCIF).
These documents arguably provide the most significant insight to date into at least part of the reasoning behind Clinton's decision to set up the private e-mail server, and may ultimately prove helpful to investigators as they seek to determine whether any crimes were committed in relation to the use of the server
The documents were obtained by the legal watch-dog group Judicial Watch in response to a court order in a lawsuit filed after the State Department failed to comply to FOIA requests seeking information related to the use of wireless communication devices by Clinton and her staff during her time as Secretary of State.
The e-mails reveal a series of sometimes contentious exchanges between top security officials at the NSA and the State Department over Clinton's request for a secure "BlackBerry-like" device, similar to what President Obama reportedly used. The NSA denied Clinton's request, so a face-to-face meeting was arranged with Clinton's chief of staff, Cheryl Mills in order for security officials to discuss Clinton's displeasure with security protocols that banned the use of wireless communication devices inside SCIF areas at the State Department.
In a partially redacted e-mail dated February 18, 2009, senior State Department security official Donald R. Reid drafted a summary of the meeting and indicated that Mills informed the group she was making  the request on Clinton's behalf and that it would be ideal if all members of Clinton's staff could be allowed to use BlackBerry devices inside the SCIF.
Here's the results of our meeting yesterday… as I had been speculating, the issue here is one of personal comfort … S [Secretary Clinton] does not use a personal computer so our view of someone wedded to their email (why doesn't she use her desktop when in SCIF?) doesn't fit this scenario … during the campaign she was urged to keep in contact with thousands via a BB … once she got the hang of it she was hooked … now everyday [sic], she feels hamstrung because she has to lock her BB up … she does go out several times a day to an office they have crafted for her outside the SCIF and plays email catch up … Cheryl Mills and others who are dedicated BB addicts are frustrated because they too are not near their desktop very often during the working day…
In a separate memo outlining the discussions from the meeting, Mills asked about waivers to the policy issued under previous administrations to allow wireless communication devices inside secured areas,  however, she was informed that the NSA had phased out such waivers due to increased security risks.
In another heavily redacted follow-up memo on this issue addressed to Mills, dated March 11, 2009, the unidentified NSA Liaison Representative to the State Department wrote, "Sometimes the distinction between what can be done and what is, or is not, recommended to be done differ; this is one of those instances. DS's (Diplomatic Security) response illustrates their level of concern based other extensive professional experience."  However, the specific recommendations to work around the problem were redacted.
While Clinton was never ultimately issued a State Department BlackBerry, within weeks of receiving detailed warnings from government security officials about the risks associated with using a BlackBerry, Clinton and her team set up accounts on the now infamous clintonemail.com server, including using BlackBerry devices in order to communicate with each other.
Some cybersecurity analysts view the short turnaround between the denial from the NSA and the decision to use the private network as evidence of Clinton and her team showing a blatant disregard for security protocols.
"It is contempt for the system, contempt for the rules that are designed to protect the exact kind of information that was exposed through this email set up," cybersecurity analyst Morgan Wright told Fox News.
It is unclear if anyone ever brought their BlackBerry inside the SCIF, but if they did it would be a clear violation of the law and have potential to do untold damage to national security.
"When you allow devices like this into a SCIF, you can allow the bad guys to listen in," Wright added.
When asked about the issue earlier this week, the State Department said they did set up a support area outside of the SCIF where Clinton could use her BlackBerry.
"There is an area dedicated to supporting the secretary outside but in the immediate vicinity of the secretary's secure office. Secretary Clinton, as with anyone, could use such non-SCIF spaces to check personal devices," a State Department official told Fox.
The information in these documents, coupled with the known timeline of events related to Clinton's first use of the private server, inevitably leaves one to question whether Clinton thought she could skirt the rules — or even that the rules did not apply to her at all.
[h/t Fox News; image via shutterstock]
Have a tip we should know? [email protected]