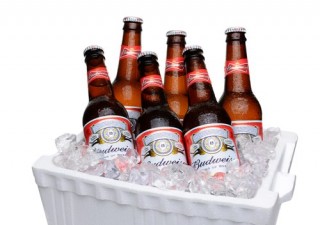 It's one thing for a brand to associate itself with American ideals, colors, or personalities, but Belgian-owned Budweiser is taking it a giant step further. This summer, the beer will be renaming itself "America" on cans and bottles, in the spirit of what vice president Ricardo Marques referred to in a statement as "the most patriotic summer that this generation has ever seen."
From May 23 until mid-November, the time that 'America' will be for sale on store shelves, the U.S. will celebrate Memorial Day, the Fourth of July, and Labor Day, cheer on U.S. teams in the Summer Olympics, Paralympics, and Copa America soccer competition, and elect a new President.
But from a legal perspective, can they do that? Can you just name your product after a country? According to Nathaniel Fintz, an intellectual property lawyer in New York, they can, but it's unlikely they'd be able to register it as a trademark or have any protectable trademark rights. "Marks that are 'geographically descriptive' are weak and thus entitled to little or no trademark protection," Fintz said. "It's hard to imagine a mark more geographically descriptive than America."
While technically there is a way around the geographic issue, it requires an "acquired distinctiveness" that Fintz said Budweiser probably wouldn't be able to show.  He explained that it "typically requires five years of exclusive and continuous use" to show this type of distinctiveness, and the name change will only be in effect for several months.
The short time frame for the new name could also be why Budweiser hasn't even bothered to apply for a trademark, as processing for an application can take from almost a year to several years, Fintz told LawNewz.com. Even if an application was approved, a mark has to be in use at the time of registration, and by the time that would happen, Budweiser wouldn't be using it anymore. So, while the company probably won't be able to gain any trademark rights in the new name, there is nothing legally preventing Budweiser from changing its name temporarily.
As part of the can's redesign, the phrase "Trademark Registered" which normally appears will be replaced with "Indivisible Since 1776." There are other changes to the text on the beverages as well, like the phrase "King of Beers" being dropped in favor of "E Pluribus Unum."
The ironic part is, while Budweiser is brewed in the U.S., its parent company Anheuser-Busch InBev is Belgian.
[image via LunaseeStudios/Shutterstock]
Have a tip we should know? [email protected]