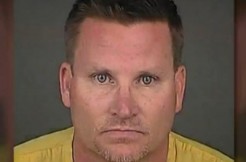 Two years after a Colorado man was arrested for killing his wife, the victim's family is suing a marijuana candy maker claiming it failed to warn consumers about the dangers of the edibles.
On April 14, 2014, 44-year-old Kristine Kirk called 911, saying her husband Richard Kirk was ranting, and jumping through windows. Then prosecutors say he shot and killed her with their three young sons in the house, according to The Denver Post. At the scene, police said they discovered a partially consumed "Karma Kandy Orange Ginger" candy. Each serving contained 10 milligrams of THC, the major ingredient in marijuana. This chemical has been known the cause paranoia and hallucinations in some individuals, though effects vary widely from person to person.
Blood tests after the fact reportedly showed Richard Kirk had some THC in his system, and Kristine Kirk's family now say the candy makers failed to warn consumers of the potential dangers.
"Edibles themselves are not the evil, it is the failure to warn, the failure to properly dose, the failure to tell the consumer how to safely use edibles, that is the evil," said the family's lawyers, Greg Gold and David Olivas, in a statement obtained by the Post.
Candy manufacturer Gaia's Garden LLC and store Nutritional Elements Inc are defendants in the lawsuit, filed on Monday. The plaintiffs say these companies failed to tell consumers of known side effects including hallucinations, paranoia, and psychosis. This complaint was filed by Kristine Kirk's parents, Marti and Wayne Kohnke on behalf of her three sons, who are age 9, 13, and 15. Reports say the boys were in the house at the time of the shooting. The youngest, then 7, allegedly saw it happen. The grandparents are now their legal guardians.
But worth mentioning, prosecutors say Richard Kirk was in his right mind when he killed his wife. They say he did it due to financial and emotional stress linked to his marriage, according to the Post. He faces one count of first-degree murder, pleading not guilty by reason of insanity back in September. At trial, his attorneys are expected to put up several witnesses to support this plea, including a marijuana expert.
A spokesman for Gaia Garden promised to fight the lawsuit. "We will vigorously defend ourselves against this attempt to shift responsibility away from the murderer to a substance that is less harmful than alcohol and does not lead to violence," Sean McAllister told the Post. Tiffany Goldman, the Chief Operating Officer for Nutritional Elements, declined to comment.
[screengrab of Richard Kirk's mugshot via Denver Police Department / ABC 9 News]
–
Follow Alberto Luperon on Twitter (@Alberto Luperon)
Have a tip we should know? [email protected]