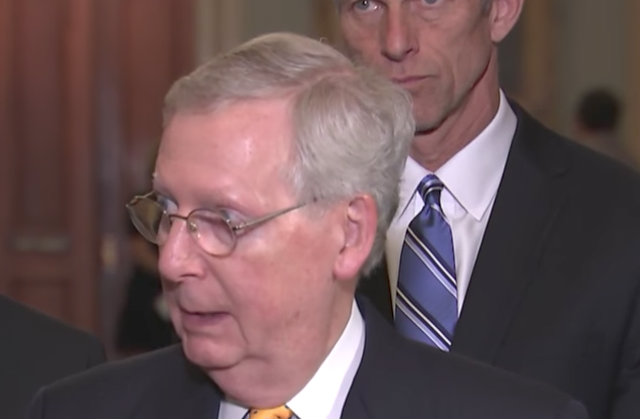 Senate GOPers might almost be done with their draft of the health care bill, but don't expect to read it soon. Two senior Republican aides, speaking on background, said that it will be finished Monday evening, according to an Axios report. That doesn't mean it's ready for publication.
"We aren't stupid," said a source. This person said they will keep discussing what will be in the final version.
LawNewz.com reached out to Senate Republicans for comment.
When it comes to this bill, the GOP has been accused of being shady. Such secrecy raised the ire of Sen. Claire McCaskill (D-Missouri) who put the GOP on blast Thursday because no health care hearing on the new bill has been scheduled.
"Will there be a hearing on the health care proposal?" Senator @clairecmc asked today in the Finance Cmte. You should watch: #Trumpcare pic.twitter.com/rmKB0rGnTM

— Senate Democrats (@SenateDems) June 9, 2017
"We're not even going to have a hearing on a bill that impacts one-sixth of our economy," she said at Finance committee hearing. "We're not going to have an opportunity to offer a single amendment. It is all being done with an eye to try get it by with 50 votes and the vice president."
Republicans command a narrow 52-48 majority over the Democratic caucus, and implementing any healthcare bill won't be easy.
The House proved that when they narrowly passed their version of the Obamacare replacement in early May, The American Health Care Act. Rather than support the measure, however, Senate moderates like Susan Collins (R-Maine) answered it with a competing bill designed to better protect people with pre-existing conditions. Of course, such a bill risks losing hardline fiscal conservatives who argue the federal government shouldn't touch health care in this way.
[Screengrab via NBC]
Have a tip we should know? [email protected]