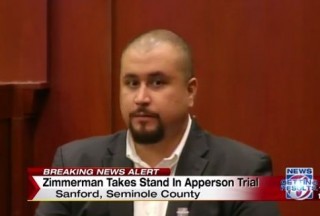 George Zimmerman took the stand on Tuesday to testify against a man who allegedly shot at him last year. Matthew Apperson is charged with attempted second-degree murder, with prosecutors saying he fired a gun into Zimmerman's truck while they were both driving. The case is being tried at the Seminole County courthouse,  in front of the same judge as Zimmerman's trial for the death of Trayvon Martin. Zimmerman was acquitted of murder in that case in 2013.
Defense attorney Michael LaFay said during his opening statement that Apperson acted in self-defense, and that Zimmerman was the aggressor. LaFay also told the court that the two men had argued about Martin in the past, with Zimmerman saying, "You know what, I'm gonna kill you, I'm gonna shoot you just like I did that kid." Apperson supposedly responded, "You were wrong to shoot that little boy."
Zimmerman testified that Apperson was following him in his car on the day of the alleged attempted shooting. "I didn't know what their intent was, but I knew at that point, it was not simply to get by me … I felt scared," Zimmerman said. He told the court that Apperson yelled at him before pulling out a gun and shooting at him. The bullet allegedly hit Zimmerman's vehicle, with glass shattering and injuring him.
In addition to attempted murder, Apperson is charged with shooting into an occupied vehicle and aggravated assault with a firearm.
[Screengrab via WKMG News6]
Have a tip we should know? [email protected]