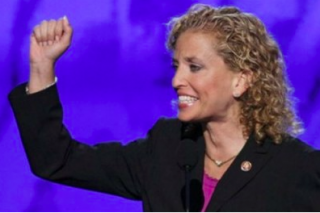 It seems that Debbie Wasserman-Schultz has been through quite a week. Following the release of Wikileaks emails that show the DNC's general disdain for Bernie Sanders, Wasserman-Schultz will step down from her role as the chair of the DNC at the end of the convention. In addition, she has minimized her role at the Democratic convention currently happening in Philadelphia.
Now, she faces a new challenge. This time from her primary opponent in Florida, Tim Canova. Canova has begun the process of filing a legal complaint against Wasserman-Schultz claiming that she misappropriated DNC resources to help in her reelection campaign in Florida.
"The Wikileaks emails indicate that Debbie Wasserman Schultz used DNC resources to assist her reelection campaign in violation of federal law," Canova, a Bernie Sanders backed law professor running in Florida's 23rd district said according to the Hill.
"According to the emails, top DNC officials used party resources to monitor, respond to, and impede my campaign on numerous occasions. My campaign election lawyers are investigating these circumstances and preparing a complaint against Wasserman Schultz with the Federal Election Commission," Canova continued in his statement.
The DNC has not yet made a statement concerning the impending legal complaint.
—
image via youtube screen grab
Have a tip we should know? [email protected]