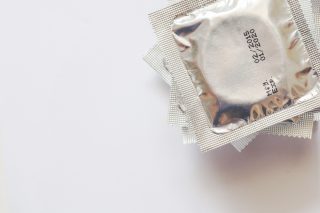 California voters will get to choose this November whether to pass a proposition that would require porn stars in the state to wear condoms when filming. Proposition 60 would also require adult film producers to pay for checkups and other health requirements.
According to the San Jose Mercury News, Prop 60 has bipartisan opposition from lawmakers, despite an LA Times poll showing 55 percent of voters support it. The state's Democratic and Republican parties are both against the proposition. So are Libertarians, the Free Speech Coalition, and the Adult Performer Advocacy Committee. Adult film performers and producers argue that all it will do is force the industry to take their business elsewhere. A similar Los Angeles County rule resulted in films being shot in nearby locales instead.
Porn distributor and producer John Stagliano said the proposed law would diminish their product. "We're selling entertainment, and it's not entertaining for people to see a sex scene shot with rules and restrictions that make it less exciting," he said. Ela Darling, president of the Adult Performer Advocacy Committee, said that wearing condoms just doesn't work for what's being done on camera. "This is Olympic-level sex," Darling said. "It's much more vigorous, lasts longer and it's not being done for pleasure, it's being done for the camera."
Despite the opposition, the pro-condom campaign has raised nearly $2 million, compared to $315,485 for their opponents. The AIDS Healthcare Foundation and other health-related organizations are pushing for the new measure to pass. The federal Centers for Disease Control and Prevention back up their viewpoint, with a report saying that when it comes to preventing HIV, testing is not enough. Performers typically get tested for HIV every two weeks. The report was over a 2014 incident where a gay porn performer tested positive form HIV after previously testing negative.
Federal Occupational Safety and Health Administration regulations already require performers to use condoms, but failure to abide only results in a fine. If Prop 60 passes, violators could be sued.
[Image via Shutterstock]
Have a tip we should know? [email protected]