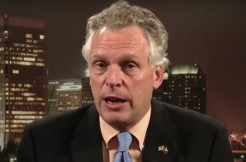 In a 4-3 ruling announced Friday, the Supreme Court of Virginia struck down Governor Terry McAuliffe's executive order that restored voting rights to over 200,000 felons. McAuliffe hasn't given up the policy, however. In a statement published Friday, he called the lawsuit by local GOP politicians an "overtly political action," and declared a change in tactics.
"The men and women whose voting rights were restored by my executive action should not be alarmed," he wrote. "I will expeditiously sign nearly 13,000 individual orders to restore the fundamental rights of the citizens who have had their rights restored and registered to vote. And I will continue to sign orders until I have completed restoration for all 200,000 Virginians."
McAuliffe, a Democrat, made the original order in April and followed up with two others.
Writing for the majority in Friday's ruling, Chief Justice Donald W. Lemons said McAuliffe violated the state constitution by issuing such widespread clemency.
Article II, Section 1 of the Constitution of Virginia sets out a general rule of law and then provides for an exception: "No person who has been convicted of a felony shall be qualified to vote unless his civil rights have been restored by the Governor or other appropriate authority." Va. Const. art. II, § 1 (emphasis added). On April 22, 2016, Governor Terence R. McAuliffe issued an Executive Order that inverts this rule-exception sequence. The practical effect of this Executive Order effectively reframes Article II, Section 1 to say: "No person who has been convicted of a felony shall be disqualified to vote unless the convicted felon is incarcerated or serving a sentence of supervised release."
Lemons said none of the Virginia's prior 71 governors issued a "clemency order of any kind" and that "the only Governors who have seriously considered the question concluded that no such power exists." He ordered the state's Department of Elections to look through the list of registered voters, and take off the names of any convicted felons who got on because of the executive orders. The deadline is August 25.
Justice Bill Mims wrote for the dissent. He said the petitioners, led Virginia House Speaker William J. Howell, lacked standing to sue.
Furthermore, even if the petitioners were able to demonstrate standing, nothing in the Constitution of Virginia renders the manner in which the Governor exercised his authority in this Executive Order and the subsequent similar orders unconstitutional. In exercising his power to remove political disabilities through the Executive Order and subsequent similar orders, the Governor neither reframed the Disenfranchisement Clause nor suspended its operation.
[h/t The Richmond Times-Dispatch]
–
Follow Alberto Luperon on Twitter (@Alberto Luperon)
Have a tip we should know? [email protected]