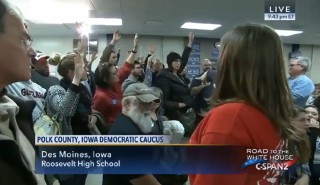 A new video of caucus voters being counted in Polk County, Iowa is raising some questions. At Roosevelt High School, the video posted on C-SPAN.org shows some confusion during the count, and Bernie Sanders' volunteers begging for a recount. Bernie Sanders says he is now asking for voting irregularities to be further investigated.
This comes as the Hillary Clinton campaign declared a narrow win over Bernie Sanders in the Iowa Caucus.
"Hillary Clinton has won the Iowa Caucus. After thorough reporting — and analysis — of results, there is no uncertainty and Secretary Clinton has clearly won the most national and state delegates. Statistically, there is no outstanding information that could change the results and no way that Senator Sanders can overcome Secretary Clinton's advantage" a Clinton campaign spokesperson said in a statement.  The Iowa state Democratic chairman announced that Clinton had been awarded 700.59 state delegate equivalents. [UPDATED 1:15 PM EST from Iowa Demoractic Party] Bernie Sanders has been awarded 696.82.
But some Bernie Sanders supporters are clinging on to what happened in Des Moines as evidence of an inadequate count.
Here is the full video via CSPAN which alleges "Clinton voter fraud In Polk County, Iowa Caucus #IowaCaucus" on the video headline:
In the video, you can hear a volunteer say there are 223 for Bernie Sanders.
"We want to make sure they counted everyone, some people could have been left," a Bernie Sanders supporter says in the video, "I just want it to be accurate, the numbers don't add up."
The caucus chair then announces the totals: Clinton 232 to Sanders 224, adding that 3 people were lost in the melee.
"I understand there may be some consternation about the vote, " Drew Gentsch, the Des Moines Democratic Precinct Caucus Chair, says to the crowd, "I don't believe it will change the delegate math, but I could be wrong."
The crowd votes down a recount.
"The reporting app is not working appropriately so I have to do it by hand," Gentsch said in front of a camera.
"You're guess is as good as mine as to what happened," Sanders told the Burlington Free Press. "I can only hope and expect the count will be honest."
As for whether this could impact the final outcome. It is unclear.  The Caucus chair said there were just 9 delegates up for grabs in this precinct (#43). According to reports, the final delegate count finished very close. The allocation is just 4 delegates apart– to Clinton's advantage. So, if the Bernie camp finds other irregularities, there is always a potential that could change things.
LawNewz.com reached out to both campaigns for comment, as well as Gentsch.
Have a tip we should know? [email protected]
Rachel Stockman - President / On Air Host