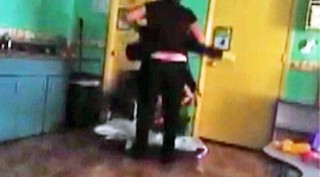 A Florida day care director is facing criminal charges after she allegedly hit a 4-year-old boy with stuffed animals, and then dropped him. It was all caught on a cell phone camera, according to police.
"It looks like he was laying on a children's mat, like for naptime, and she walked over and was striking him several times with stuffed animals. And, at one point, in the vide0, you see her actually pick the child up and drop him from about two to three feet off the ground," a Clermont, Florida Officer Erin Razo told Fox 13 in Tampa Bay.
The video was apparently taken by another daycare worker who was concerned about what was going on. The witness told police this had been going on for 3 weeks. According to court records obtained by the television station,  Kimberly Reid, the day care director, had been in trouble with the law before. She previously pleaded guilty to grand theft, welfare fraud, and organized crime in Orange County.
Reid is now facing child abuse charges.
Here is the video (warning, it is graphic):
[Screengrab via WFTV, h/t Fox 13, Tampa Bay]
Have a tip we should know? [email protected]
Rachel Stockman - President / On Air Host