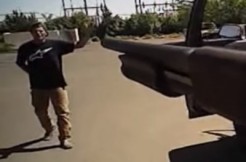 On June 25, police in Fresno, California shot and killed 19-year-old Dylan Noble during a traffic stop. After getting public criticism, Police Chief Jerry Dyer released body cam footage of the incident, and it has stroked more outrage.
"We're shocked and appalled that the city of Fresno would continue to defend the actions of its officers," attorney Stuart Chandler told CNN. He represents Noble's mother, Veronica Noble. "Clearly the only appropriate response is to accept responsibility and commit to changing practices of the police department."
Chief Dyer told The Fresno Bee in a June 27 report that body-cam footage showed that the officers "felt, at least in their minds" that firearms were necessary. However, he mentioned that the investigation is ongoing, and that the family certainly had "questions that we don't have answers for at this time."
"I do not have the answer for that today," he said at a press conference Wednesday, when asked if he thought the shooting was justified.
Body-cam footage from the two officers involved can be seen here. Please note that it is graphic. Via Raw Leak:

According to CNN, Dyer said police had been looking for a man who reportedly had a rifle while walking down the street. While searching, they attempted to stop a pickup truck that seemed to be speeding away, and they went on a half-mile chase.
The driver, Dylan Noble, eventually stopped. One of the officers suspected he might be the man with a rifle, and drew his handgun; the other officer eventually followed suit, pulling out a shotgun. As shown on video, Noble doesn't seem to really respond to officer demands.
He eventually stepped out of the truck, but kept one hand behind his back. Noble was shot twice after receiving several demands to put his hands up. Police shot him twice more after he fell on the ground.
But Noble didn't have a firearm on him. He was apparently holding a piece of small plastic containing moldable clay.
"We don't know what that is," Dyer said, according to CNN.
Investigation into the shooting is ongoing. No criminal charges against the officers have been announced.
This footage was released in the wake of two high-profile killings of black men by cops, and the July 7 killing of five Dallas police officers at a Black Lives Matter rally. It has sparked a racially charged debate on police brutality. (Noble was white.)
–
Follow Alberto Luperon on Twitter (@Alberto Luperon)
Have a tip we should know? [email protected]