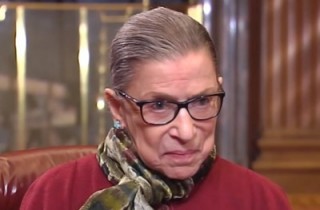 Supreme Court Justice Ruth Bader Ginsburg regrets her recent comments regarding presumptive Republican Presidential nominee Donald Trump, Fox Business reported.
Justice Ginsburg had said in an interview with The New York Times that she "can't imagine what the country would be" under a Trump administration. "For the country, it could be four years," she said. "For the court, it could be — I don't even want to contemplate that." She then gave an interview with CNN, where she said, "He is a faker. He has no consistency about him. He says whatever comes into his head at the moment. He really has an ego."
Both interviews resulted in backlash from those who believe that Supreme Court justices should stay out of the political sphere. Trump himself responded on Twitter, saying that Ginsburg should resign, and that "her mind is shot."
In a statement released on Thursday, Ginsburg addressed the controversy. While stopping short of a full apology, she did express regret for her political comments:
On reflection, my recent remarks in response to press inquiries were ill-advised and I regret making them. Judges should avoid commenting on a candidate for public office. In the future I will be more circumspect.
Have a tip we should know? [email protected]