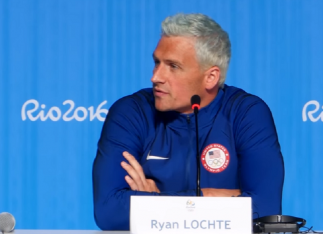 US swimmer Ryan Lochte offered a lengthy apology in a statement released Friday morning.
Ryan Lochte apology statement pic.twitter.com/MDJRSkBMzG

— Bradd Jaffy (@BraddJaffy) August 19, 2016
Lochte and three other Team USA swimmers were involved in a bizarre incident at a gas station in Rio on Sunday morning.  Lochte originally claimed he and his teammates had been robbed by fake police officers outside a taxi cab on their way back to the Olympic village.
His story changed somewhat as the incident started to get more attention and everything culminated yesterday with a bizarre press conference in which the Brazilian police said Lochte and fellow teammate James Feigen falsely reported a crime. On Friday morning, Feigen agreed to pay $10,800 to a charity to resolve the matter.
In his apology, Lochte admitted to being scared at having a gun pointed at him by an unknown individual who was demanding money, but he also faulted himself for being in that situation in the first place.
Have a tip we should know? [email protected]