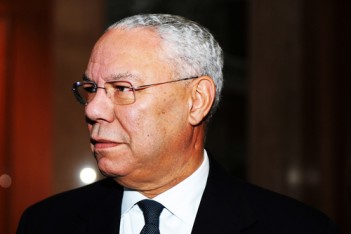 Hillary Clinton reportedly told FBI investigators that former Secretary of State Collin Powell was the individual who advised her to use private email while serving as Secretary of State.  The New York Times reports this information was included in the investigative materials, including Clinton's 302 report,  turned over to Congress earlier this week by the FBI.
The Times also reports the information is consistent with recent reports by journalist Joe Conason in his upcoming book about Bill Clinton.  The newspaper recounts a portion of the upcoming book in which Conason describes a conversation over dinner in early 2009 that included Hillary and several of the most recent people to serve as Secretary of State.
Conason reportedly describes a discussion towards the end of the dinner, writing, "Powell told her to use her own email, as he had done, except for classified communications, which he had sent and received via a State Department computer."  According to Conason's account, Powell's remarks ""thus confirmed a decision [Clinton] had made months earlier — to keep her personal account and use it for most messages."
Powell's office released a statement that calls into question Conason's reporting, but The Times inexplicably did not include the entire statement in the article.
However, Brad Jaffy of NBC News did tweet out Powell's full response this morning:
General Powell has no recollection of the dinner conversation. He did write former Secretary Clinton an email memo describing his use of his personal AOL email account for unclassified messages and how it vastly improved communications within the State Department. At the time there was no equivalent system within the Department. He used a secure State computer on his desk to manage classified information. The General no longer has the email he sent to former Secretary Clinton. It may exist in State or FBI files. For a complete discussion of his use of private emails he refers you to chapter 16, "Brainware" of his recent book, "It Worked For Me — In Life and Leadership," published in 2012.
Statement from Colin Powell's office to NBC News—after NYT @amychozick rpt on Clinton emails https://t.co/tLMYzhobKo pic.twitter.com/Z5S8JI6BYm

— Bradd Jaffy (@BraddJaffy) August 19, 2016
While The Times did mention Powell saying he had no recollection of  the dinner, the report did not mention Powell's remarks about there being no equivalent system available at State during his tenure.  FOIA records show Clinton was presented with multiple options for an unclassified state department email, but she turned it down at every turn.
This is an opinion piece. The views expressed in this article are those of just the author.