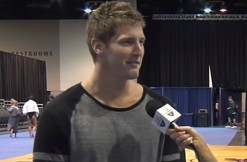 On Friday, it was announced that U.S. Olympian James Feigen must pay $10,800 dollars because he allegedly lied about a robbery, The Associated Press reports. His attorney Breno Melaragno said that they worked out a deal with a judge: Feigen will pay the money to an "institution" to get his passport back, then leave the country. It's unclear what was meant by "institution."
Local police have already recommended that he and gold medalist Ryan Lochte be indicted for issuing false reports.
They and two other swimmers, Gunnar Bentz and Jack Conger, said there were robbed Sunday at a Rio de Janiero gas station. They claimed it was armed men dressed as police officers. This story launched a bizarre struggle over the truth. After the story broke, an International Olympic Committee spokesman immediately said it never happened. Authorities investigated briefly detaining Bentz and Conger on Wednesday before their return flight to the United States. Then on Thursday, a source with Brazilian police told ABC News that Lochte straight up lied about it all: The swimmers, then intoxicated, allegedly vandalized the gas station, then got into a confrontation with the employees, which included armed guards. Surveillance footage also allegedly punctured holes in their story.
"No robbery was committed against these athletes," said Civil Police Chief Fernando Veloso, according to the AP. "They were not victims of the crimes they claimed."
So now Feigen has to pay the fine, which amounts to $10,800 (35,000 Brazilian reals).
Here's a new statement from the IOU.
New USOC statement on Ryan Lochte, confirming details of incident #Rio2016 pic.twitter.com/EQFPHwvK6O

— Greg Wyshynski (@wyshynski) August 19, 2016
So Feigen's still in Brazil, and he's got to pay the fine before he's allowed to go back to the State. Bentz and Conger seem to be in the clear legally, at least for now. But what about Lochte? He's been back home for days, out of reach of Brazilian authorities. LawNewz.com Senior Editor Rachel Stockman has suggested it's unlikely for the US Government to extradite Lochte over this.
[Screengrab via USA Swimming]
–
Follow Alberto Luperon on Twitter (@Alberto Luperon)
Have a tip we should know? [email protected]