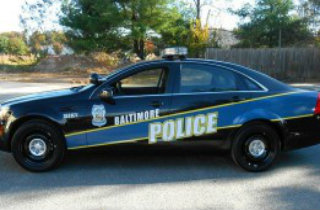 The prosecutor who called an alleged sexual assault victim a "conniving little w—e" is no longer with the Office of the State's Attorney for Baltimore City, according to a statement released Thursday. The reason why he or she left remains unclear.
Here's the backstory, in case you need to catch up: On August 10, The Justice Department released a 164-page report on the Baltimore Police Department, and its problems with internal racial bias and systemic unwillingness to investigate sex crimes. One piece of evidence was quite memorable: A BPD officer and a prosecutor, who both remain unidentified, were talking smack about an alleged sexual assault victim.
"This victim seems like a conniving little w—e," the prosecutor wrote via email.
"Lmao!" the officer responded. "I agree."
Cue an investigation into who wrote this, the results of which were announced on Thursday.
"State's Attorney Marilyn Mosby takes sexual assault very seriously and does not condone derogatory insensitive comments made to or about sexual assault survivors, which work against our efforts to successfully hold the perpetrators of these offenses accountable," Public Relations Officer Arinze Ifekauche wrote.
The prosecutor involved no longer works there, and why they left remains unclear.
"We do not provide comment on personnel related matters," Ifekauche told us in a follow up email.
–
Follow Alberto Luperon on Twitter (@Alberto Luperon)
Have a tip we should know? [email protected]