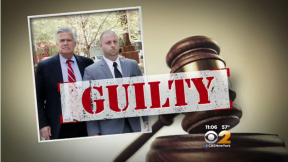 New York's "White Knight," Preet Bharara, the U.S. Attorney for the Southern District of New York, is fresh off the watershed convictions of two of Albany's legislative leaders: former Assembly Speaker Sheldon Silver and former Republican Senate Majority Leader Dean Skelos. The convictions were handed down to the praise of critics tired of the deep corruption in the Empire State's Capitol.
The former Senate majority leader and his son Adam, each charged with extortion and bribery, are seeking new trials just six weeks after they were convicted of federal corruption charges in Manhattan Federal Court. The Long Island Senator used his political clout to procure jobs and payments for his son — no quid pro quo.
The motion filed by the Skeloses' attorneys seeks a new trial, claiming the trial evidence fails to prove their crimes beyond a reasonable doubt: the evidentiary standard in criminal prosecutions. The trial judge denied the motion for acquittal.
Sentencing for the father and son is set for March 3.
Both Skelos and Silver are eligible for pensions in excess of $90,000, despite their convictions.
[h/t ABCNews]
[Screengrab via CBSNewsYork]
Have a tip we should know? [email protected]