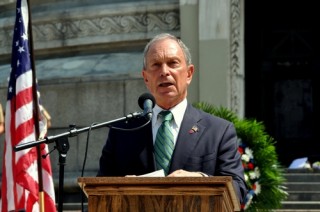 Former New York Mayor Michael Bloomberg may throw himself into the 2016 presidential race. The media mogul could even put up $1 billion of his own money. Bloomberg is reportedly irked by Donald Trump's policies and his recent domination in the polls. He wants to give Americans a better choice by possibly running as an independent. But here's the problem with Mayor Bloomberg's plan: It may end up backfiring on him. In fact, it would likely propel the Donald right into the White House.
Why? It ultimately comes down to some legal realities about how our electoral process works.
Although he claims to be a centrist, the most recent Gallup poll shows that Bloomberg's appeal is among Democrats (52 percent favorable versus 21 unfavorable) – and just not great among Republicans (only 23 percent favorable). Conservative Republicans even laughed off his latest presidential flirtation.
As you might recall from U.S. history class, the candidate who wins the popular vote doesn't necessarily win the White House. In order to prevail, the candidate must win 270 electoral votes. Back in 2012, Obama won 322 to Romney's 206 electoral votes. So let's say Trump (or the Republican candidate) wins all of those states (plus or minus some). The vote could be split three ways. No one would win 270 votes in the Electoral College.
What happens next? Under the 12th Amendment of the U.S. Constitution, the U.S. House of Representatives decides who becomes President. Each U.S. Representative doesn't get one vote in this case – they vote by state delegation. That means each state delegation only has one vote. For example, all of the U.S. Representatives in Texas would only get to vote for one candidate. So some quick addition shows there are 33 red states (meaning the U.S House representatives in the state are majority Republicans), 15 blue states, and 3 states that are tied.
"The Republicans would definitely have the edge because they control more state delegations," Rick Hasen, a University of California Irvine School of Law Professor told LawNewz.com. Hasen also runs the popular electionslawblog.org. Simple math would almost guarantee a Donald win.
"I think he (Bloomberg) only jumps in if it's Sanders and Trump, and then he sees two unpalatable choices. I think the advantage goes to the Republicans," Hansen said. That's not totally far-fetched. Clinton's lead in the Democratic primary race has narrowed to its slimmest yet.
If the U.S House of Representatives decided the Presidency, it would not be entirely unprecedented (though rare). It happened twice already:
· Election of 1800 – After six days of debate in the house and 36 ballots, Thomas Jefferson won 10 state delegations in the House to give him the Presidency
· Election of 1825 – The House chose John Quincy Adams over Andrew Jackson. Here's what's interesting about this case: Andrew Jackson actually won a plurality of the national popular vote and 99 votes in the Electoral College but Adams still won the vote in the House because of some intensive lobbying.
Mr. Bloomberg is clearly not a fan of Trump, and may be considering this run as some sort of last ditch effort to save the nation from the Donald. But as you can see, this could very well backfire, as he would face a sea of red state delegations on the floor of the House.
Have a tip we should know? [email protected]
Rachel Stockman - President / On Air Host